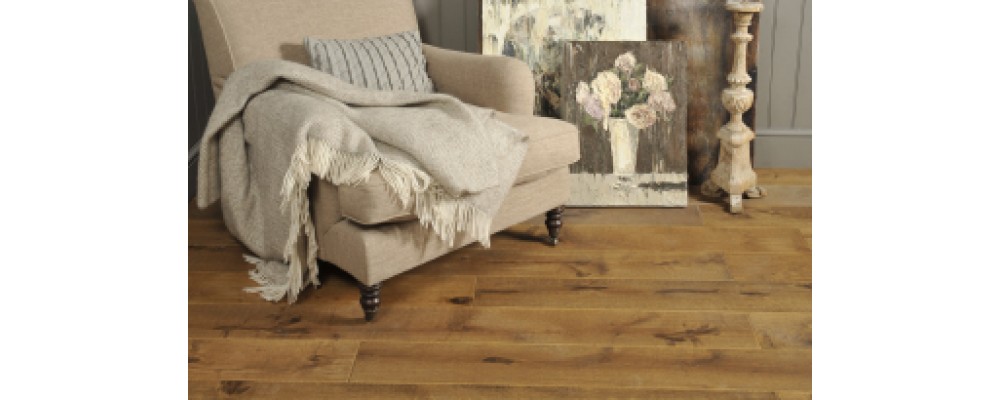 Natural wood flooring has an inherent warmth and beauty that carpet just cannot hope to match and her are some reasons why fitting a solid or engineered wood floor in place of a carpet in your home is a smart choice.
Why is wood flooring better than carpet
Good quality real wood flooring can be purchased for a little as £35-£40 per sqm which is comparable to a good quality carpet and does not require an additional expensive underlay.
Although solid or engineered wooden flooring will cost a little more to lay with a little care it will outlast a carpet, saving large sums on replacement costs, and the appearance will improve with age.
If a wood floor becomes worn or scratched it can simply be sanded and re-varnished or oiled to bring it back to as new condition at a fraction of the cost of replacing a carpet. Engineered wooden floors can also be maintained in this way as the real wood veneer is thick enough, around 5 mm, to allow for repairs and refinishing.
Wooden flooring is easier to clean, requiring only a light brush or vacuum to easily remove dust and surface debris that can build up in carpets over time and dirt from muddy shoes and paws that would soil a carpet can be simply wiped or moped away.
Unlike carpets wooden floors do not trap dust, dirt and mites and are therefore healthier and better for allergies sufferers.
Carpets can trap odours especially if you have pets. Wood floors do not have this problem and can be easily moped or polished, creating in a pleasant fresh aroma in the room.
Solid and engineered wood flooring is a better conductor of heat than carpet and is a good choice for use with underfloor heating which is a more efficient and pleasant way to heat a room.
While natural stone flooring and flagstones are becoming increasingly popular and are perfect for kitchens and bathrooms a real wood floor is softer under foot and feels warmer and is therefore a good choice for lounges and bedrooms.
Wood is a timeless material and a good quality solid or engineered wood floor will never go out of fashion.
Engineered wood flooring consists of a 5 or 6mm real wood veneer bonded to a engineered plywood base, giving the look and feel of a solid wood floor with resistance to moisture which can cause movement in solid wood floors. This makes engineered real wood flooring the perfect choice for period properties where damp and poor ventilation can be an issue or for areas of the home such as entrances and hall ways where shoes and paws inevitably make floors wet and dirty.
A good quality solid or engineered wood floor will add beauty and elegance to your home and last for years. Our extensive engineered real oak wooden flooring has been carefully selected for the quality of its grain and construction and with many styles, colours and finishes available we have wooden floors to suit contemporary, rustic and period interiors. But don't take our word for it, see our engineered oak floors displayed as they are intended to be used at our extensive new boutique flooring showroom in Cirencester or alternatively you can order wood flooring sample from our website.