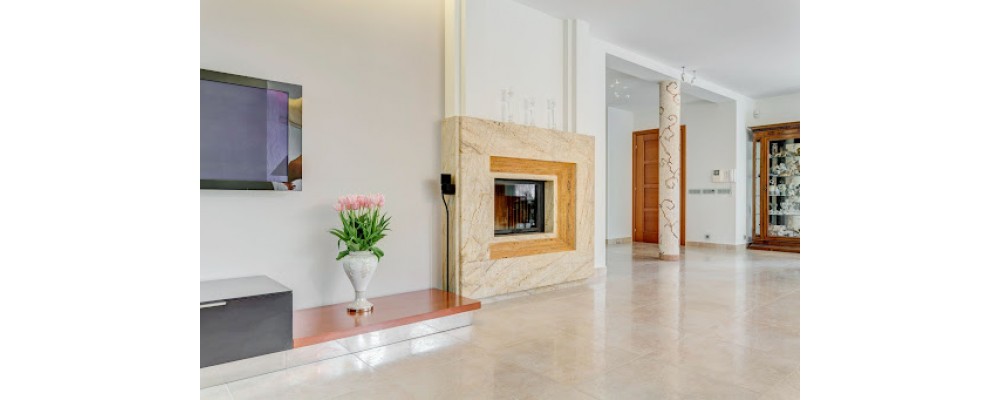 Porcelain is a variety of tile that has grown in popularity over the last year. Known for their strength, durability, and beauty, they are generally considered superior to standard ceramic tiles.
While porcelain tile flooring is made from much of the same materials as ceramic tiles, it is made in a different way and has many benefits that other flooring solutions do not.
But as it is still a relatively new material in the UK, we thought we would give you an honest perspective of porcelain tile and provide some of the benefits; the pitfalls; and ultimately if it is worth the investment?
What Is Porcelain Tile?
Before we examine the pro's and con's of Porcelain tiles, we thought it would be wise to review what porcelain tiles are in the first place - a floor covering, made from very dense clay, that's fired at a higher temperature than ceramic tiles.
Traditionally, Porcelain tile is made by blending clay with other natural materials and then firing in a furnace. Due to its highly uniform construction and nonporous properties, it is popular for large spaces, or designs, where you want a more sleek, polished or consistent look
Ceramic tile is generally the same thickness as Porcelain tile, however Porcelain tile is typically heavier. Porcelain tiles also have a more extensive selection of shapes and styles than Ceramic, which is another reason why more and more people opt for it over ceramic tile.
The Benefits Of Porcelain Tile
Cost has always been a large reason as to why Porcelain tiles are not as popular as Ceramic. But there are valid reasons why the Porcelain tile is more expensive - here are the top 5:
Wear-resistant
Tiles made of Ceramic wear out more quickly than those of Porcelain, which means that Porcelain lasts longer. Porcelain tiles contain fewer air pockets, which are equally distributed throughout its construction, than Ceramic tiles. This makes it denser, thicker, and more robust. So there is less likelihood of your porcelain tile floors cracking or breaking.
As Porcelain tiles last years longer and are the most durable flooring option on the market, they are a popular choice for rental properties or businesses. One of the other big benefits of Porcelain tile, and a key reason for its growing popularity in family homes, is how well it holds up to pets.
Low Maintenance
The maintenance of floor coverings can be demanding, as anyone who has ever had a hardwood floor will tell you. Porcelain tiles are simple to maintain, easy to look after, and maintain a fresh look. With no special cleaning or maintenance requirements, they are one of the easiest to maintain.
As opposed to other tiles, Porcelain does not require any special sealant to keep water out. Like ceramic tiles, they dry quickly when they are wet, have a natural abrasion to stop them from being slippy and, though they are not entirely waterproof, they are resistant enough to protect against water damage over time.
With no risk of damage from water, Porcelain tiles are a popular choice in moist areas such as kitchens, bathrooms, mudrooms and entryways - with patios seeing huge growth during 2020 and beyond for the same reason.
Suitable for high traffic areas
There are a few reasons why porcelain tile floors work best in high traffic areas, one of the main reasons they are so popular with businesses. Floors made from Porcelain material are highly durable, even when exposed to high footfall, heavy boots or pet claws/nails
As opposed to other flooring options, Porcelain floors don't require as much maintenance. They have high moisture resistance making them simple to clean, there is minimal upkeep (beyond regular cleaning) and the maintenance is non-existent.
Highly Durable
Durability is another big plus for porcelain tiles. The clay used in porcelain tile is highly refined and fired at a higher temperature, delivering unparalleled strength. When it comes to durable floors, they are the best choice for pets and/or are hard on the floors in general.
There are many reasons to consider porcelain tile, but one that stands out is that it is incredibly durable and has an easy-care factor as well. It is almost impossible to damage the flooring and piece by piece replacement is possible if necessary.
Enhanced moisture resistance
Moisture issues can cause cracking in ceramic tile, which is a major issue for homeowners in colder, or temperature changing climates. Those tiles will crack as a result of dampness and very cold temperatures. The likelihood of this happening with porcelain tile is much lower - as they are dense, uniform and much less porous than other tile types.
Porcelain doesn't absorb as much moisture, so it's a much more durable and reliable flooring option. Which is why there is a new trend to use them on outdoor installations - though for best results covered areas help to extend the life and look of the tiles.
Regardless, porcelain tile is highly moisture resistant and perfect for spaces that may occasionally get damp.
Simple To Clean
It's easy to clean, wipe and maintain porcelain tile over time. They also don't harbour bacteria like porous surfaces do or stain as easily as traditional tiles. Cleaning it is similar to cleaning most floors - sweeping and mopping the floor without the need for a special kit like wood for example.
Slate Effect Tiles
Do you find yourself wondering which type of floor tiles are best suited for your home? If so, you may want to consider slate-effect tiles. It's also an eco-friendly option that looks good in both modern and rustic spaces.