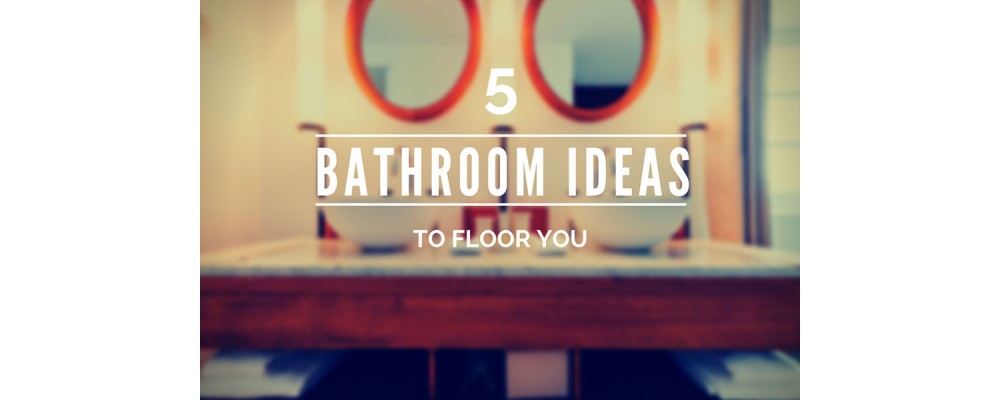 Luxury and style are now as high on bathroom design must-have lists as function and practicality. And of course, everyone wants a wow factor, too. This is where bathroom flooring really comes into its own. There are so many fabulous choices available – from porcelain tiles and engineered oak, to limestone flooring and wood-effect tiles – all offering fantastic durability, as well as being highly stylish and cost effective.
Whether you want to complement your bathroom's fixtures and fittings, or you want your floor to be a complete contrast, we have an extensive selection here at Beswickstone. So, let's take a look at five fantastic bathroom ideas to inspire you.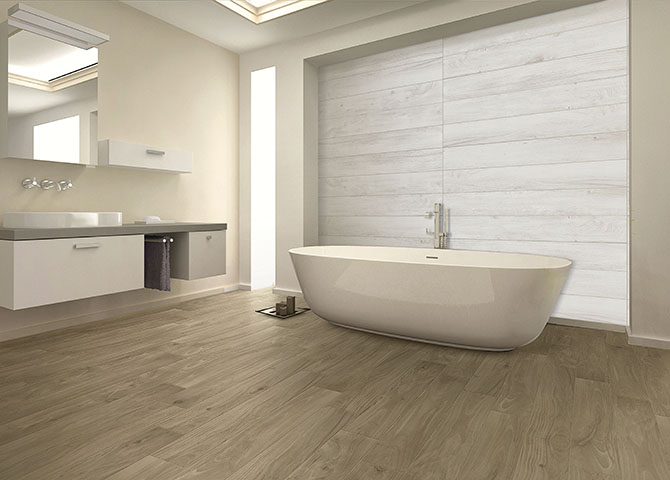 Warming wood
Using real wood in bathrooms is risky, given that moisture can cause a lot of damage. So it's easy to see why
wood-effect flooring
is gaining in popularity. With modern technology allowing for exceptionally real replicas of wood, you can achieve the warming, welcoming feeling of a wooden floor – even down to the delicate knot and grain detailing. We have a gorgeous selection of porcelain wood effect tiles and engineered oak flooring, in a wide range of beautiful colours and effects.
Our porcelain tiles offer the look, feel and beauty of real wood floor, with tones ranging from limed and walnut through to ebony and stunning white, and all the benefits of a porcelain floor. Highly water resistant, porcelain tiles won't warp or fade, are far denser than other bathroom tiles, and are practically impermeable, making it hard for any liquid to penetrate the tile and leave a stain. Easy to look after and keep clean, porcelain tiles also work well with underfloor heating as the heat is evenly and quickly distributed.
Engineered oak flooring
is another great way to bring the warmth of wood into your bathroom, without the problems of solid timber. The perfect alternative for bathrooms, our engineered oak is extremely stable and available in a wonderful range of colours, finishes and textures, including herringbone, antique oak and whitewashed.
Heavenly hexagons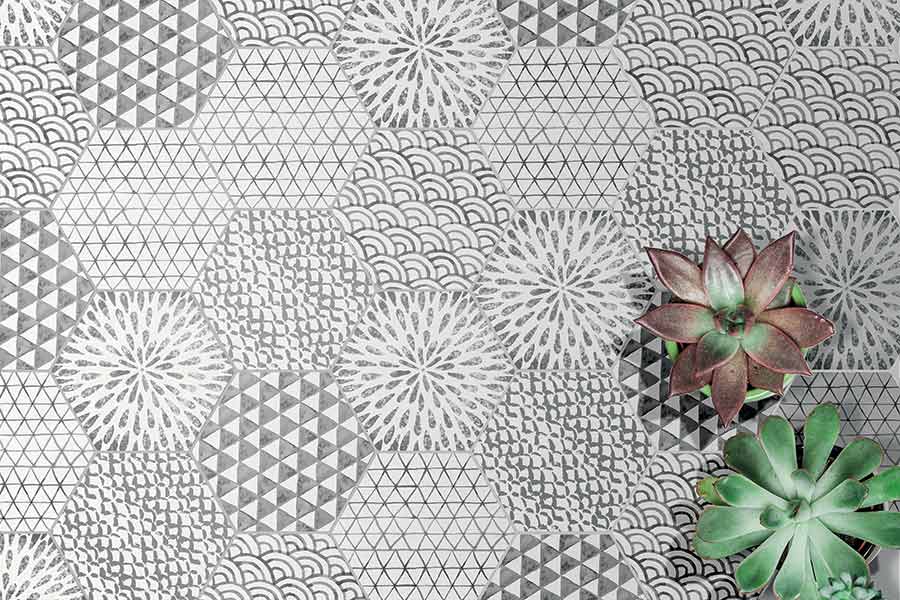 Hexagonal tiles offer a fabulous contemporary twist to a bathroom floor, if you're looking to inject personality and create impact. For an indulgent, dynamic and visually interesting effect,
hexagon porcelain tiles
are the perfect choice. In neutral shades, a subtle honeycomb pattern can have a wonderful and modern Scandi appeal, without overwhelming the entire room. Or, you can use more than one tone or pattern to add interest and character. Our magnificent Alchimia 'HEX' hexagon porcelain tiles will bring vibrancy and style to any bathroom. Whether the smaller format
Minimar Curve
, with gorgeous matte silver blue tones and arabesque motifs, or the funky monochrome design of the
Minimar Mix
, you can completely transform your space with these glorious
decorative tiles
.
Sophisticated slate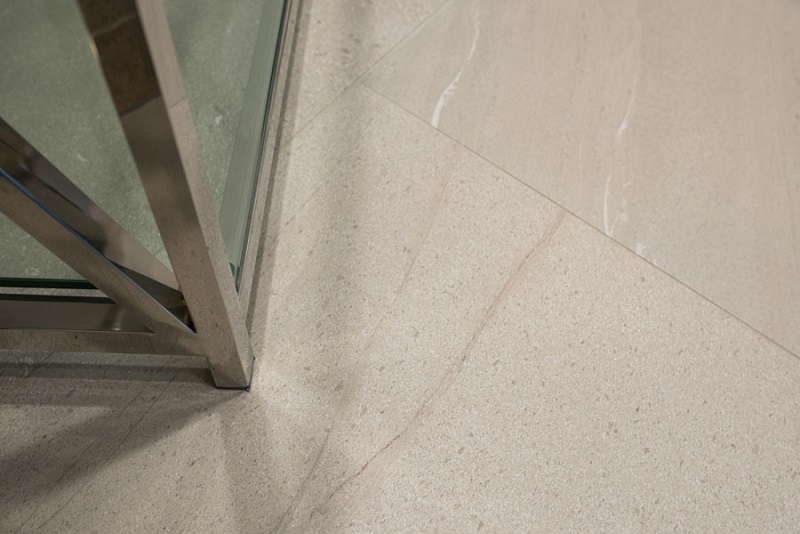 Timeless, practical and truly stunning,
slate-look tiles
are a superlative choice when it comes to bathroom flooring – particularly when the dark black is nestled among sleek white fixtures and fittings. While real British slate is gorgeous, long lasting and slip resistant, it's also very expensive and needs a lot of maintaining. It can also be very cold underfoot, taking away the warmth and cosiness that's desirable in a bathroom.
Slate porcelain tiles
are the ideal alternative and create a highly authentic floor. Our beautifully crafted slate porcelain tiles are elegant, stylish and wonderfully low-maintenance.
Mistique Black
boasts the originality and character of traditional slate, for the perfect backdrop in any bathroom.
Luscious limestone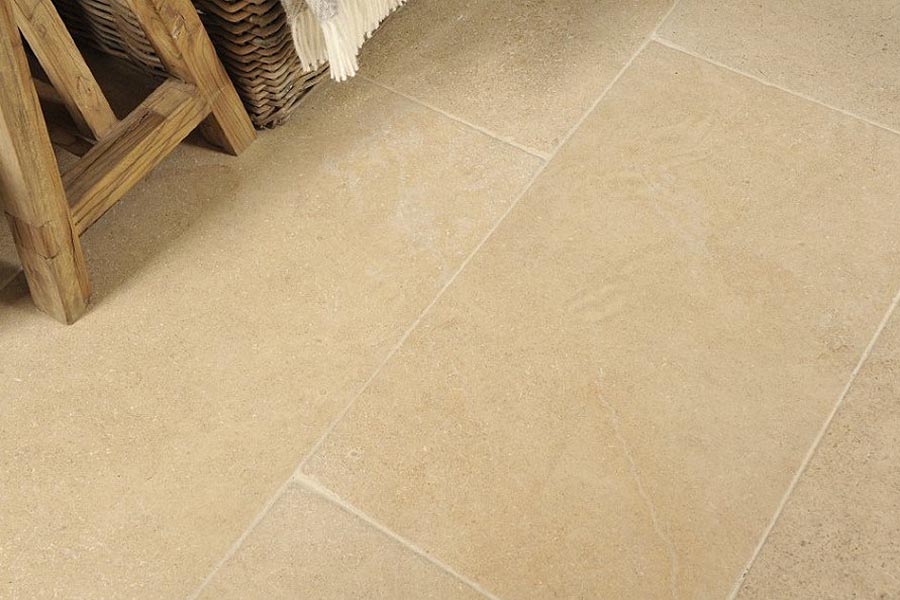 Classic pale honed limestone
is a glorious flooring choice for the bathroom – particularly in smaller rooms, where the pale tones give the impression of light and a larger space.
Tumbled limestone
offers a textured surface for slip resistance and a lovely feeling underfoot. Our
Villiers Grey soft tumbled limestone
is bursting with exquisite fossil and shell interest and handpicked by us, directly from the quarries, so you can be sure of the very highest quality and cost-effective flooring. Hardwearing and easy to clean, limestone flooring retains heat and will naturally adjust to the temperature of the room, but for added warmth it works brilliantly with underfloor heating.
Bold bricks
For quite a few years now
brick porcelain tiles
on the walls have featured prominently within bathroom design ideas. Now, however, we're seeing classic metro and brick-shaped tiles making bold statements as bathroom floors. Whether glossy black for a slick feel, simple white or bold vibrant colours, brick porcelain tiles can give any bathroom a real wow factor. Perfect to both complement and inject a stylish contrast with your fixtures and fittings, you can even make a real statement by extending your tiles from the walls to the floor. We have a fantastic range of porcelain brick tiles in an array of magnificent colours, to bring a fresh, chic and modern vibe to any bathroom.
For more bathroom ideas and to see our full selection of bathroom flooring, visit our
showroom
in Cirencester, or click here to
order a sample.