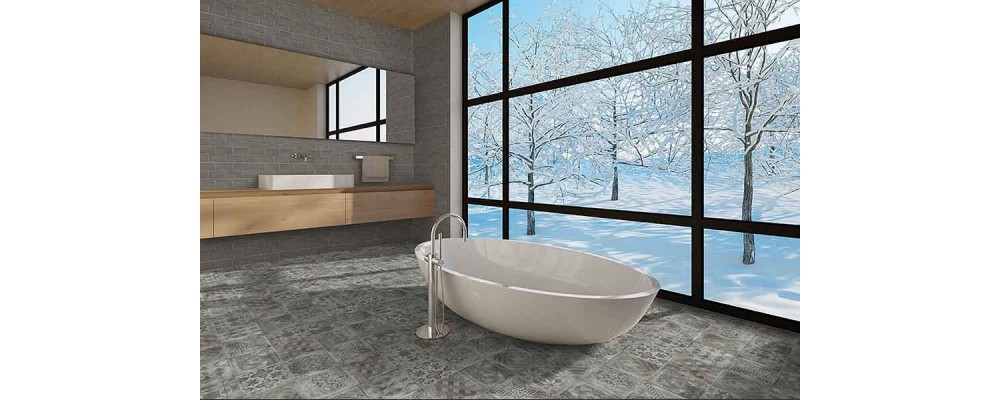 No longer seen as merely a functional room, the bathroom is becoming an increasingly important part of the home. Designs have moved on from just practical, to encompassing luxury, pampering and a soothing ambience within which to unwind and relax.
Bathroom tiles play a large part in the overall design and atmosphere of a bathroom, with patterned tiles offering unlimited possibilities. From splashbacks to feature walls, decorative porcelain tiles are the perfect way to create a stylish haven of tranquillity.
Pretty patchwork porcelain tiles
Highly on-trend this year, patchwork prints are the ideal way to create a stunning vintage vibe. With advances in digital printing technology, fabulous patchwork patterned porcelain tiles offer extreme style, with low maintenance and high durability. Our gorgeous Tin Glaze porcelain wall tiles offer ornamental styles with a fabulous old glazed technique. From oriental and arts and crafts motifs, to clean crisp grey, you can create the perfect patchwork effect.
Gently gorgeous geometric tiles
Soft and subtle geometric porcelain tiles bring effortless serenity to the bathroom. As a delightful backdrop for any décor, they offer the perfect levels of retro appeal and relaxation. Our beautifully glazed Madelaine Décor porcelain wall and floor tiles combine strong geometric patterns with soft outlines, creating a rustic, timeless and welcoming atmosphere.
Indulge in hexagonal tile heaven
Embracing the Romans' love of spa and sanctuary, with a contemporary twist, hexagonal porcelain tiles offer a striking floor or wall choice, perfectly complementing a simple and understated room design. With our Alchimia 'HEX' and Minimar hexagonal tiles you can enjoy delightful contemporary designs, for a dynamic and aesthetically interesting bathroom in which to unwind.
The magnificence of Moroccan tiles
Draw on Moroccan influence to bring your own temple of tranquillity to life, with stunning Moroccan tiles. Get creative with a feature wall or splashback for a beautiful effect. Our Tangier porcelain tile collection blends delightfully subtle greys and anthracite colours into stunning patterns, for a charming bathroom that exudes stylish serenity.
To view our full collection of patterned tiles and decorative porcelain bathroom tiles, please visit our large showroom in Cirencester, or order a sample online.