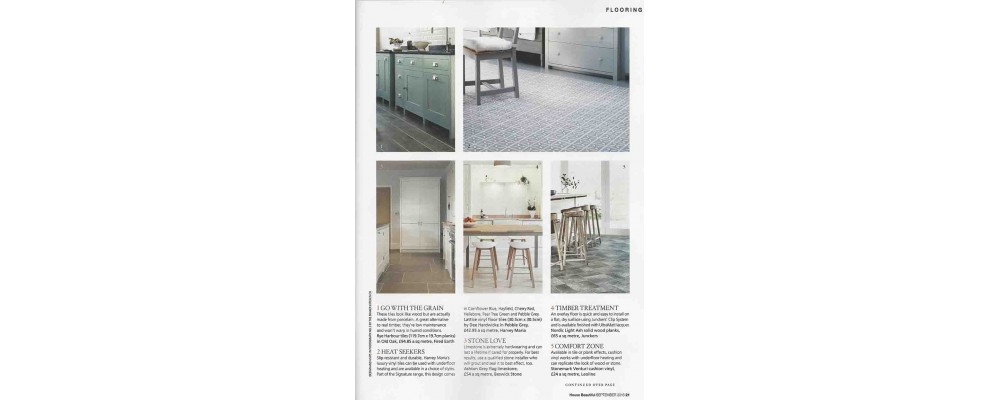 We are exceptionally proud to have our Ashton Grey flag limestone showcased in the latest edition of House Beautiful, as part of a feature on kitchen flooring. Highlighting the hardwearing attributes that make stone the perfect choice for kitchen flooring, our timelessly elegant Ashton Grey flag limestone is pictured beautifully complementing a shaker-style white kitchen.
House Beautiful is a leading interior decorating and design magazine, delivering inspiration, ideas and advice to home lovers on all aspects of creating the perfect home. First published in 1896 and launched in the UK in the early 1950s, the magazine has around 118,000 UK readers.
Limestone kitchen flooring is the perfect choice
With the kitchen being the social hub of most homes – a place to eat, live and entertain – kitchen flooring endures a lot of traffic. As the House Beautiful feature commented, stone kitchen floors offer fabulous durability and, with just a little cleaning and care, can last a lifetime. Exceptionally stylish and highly versatile, flagstone flooring, such as limestone, is the ideal choice for both modern and traditional kitchens alike.
In a contemporary, open-plan area, stone kitchen floor tiles can be used to seamlessly connect the various zones in a sophisticated and effortless way, withstanding the footfall, while all the time projecting the true beauty and warmth only found in natural stone.
With interior design trends still focused strongly on 'bringing the outside in', there's no better way to embrace this than with a natural stone floor. You can create a flawless transition from your kitchen to an outside area for a marvellous, spacious feeling.
Stone kitchen floors are ideal for family life
As well as the undeniable 'wow' factor natural stone kitchen floor tiles effortlessly create, they are a highly practical solution for busy family lives. Used alongside underfloor heating, stone kitchen floors are not only wonderfully warm in the winter but will quickly dry any wet foot or paw prints. And, once sealed, limestone flooring will resist moisture and cope with spills – just a quick mop and no need to worry about staining.
An array of stone kitchen floor tiles to choose from
At Beswickstone we have a wide selection of beautiful limestone flagstones and floor tiles, to suit any style of property or interior design theme, with glorious colours, finishes and effects – from bold greys to soft beiges, from honed to tumbled.
Our featured Ashton Grey is an exquisite dark limestone floor tile, with a smooth hand-worn finish for magnificent kitchen flooring full of depth and interest. Our Castile Soft Tumble is a fabulous choice for a modern kitchen, with its up-to-the-minute delicate finish and light fossil accents, nestled among mellow honey hues. For an elegant touch in a country style kitchen, our Old Heritage is a spectacular blue-grey limestone floor tile, with stunning highlights, which has been hand-distressed for an authentic, aged finish.
To find out more about our fabulous collection of limestone kitchen flooring, as well as our entire range of natural stone floor and wall tiles, engineered wood flooring and porcelain tiles, visit our Cirencester showroom. Alternatively, you can order a flooring sample on our website.