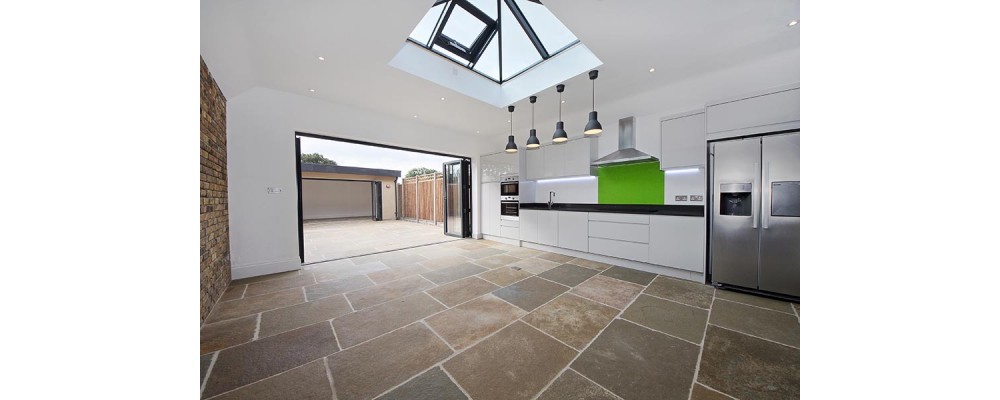 One of the biggest design trends for this year – and one that looks set to continue into 2017 – is the concept of 'bringing the outside in'. Embracing everything that is wonderful about nature's finest materials, the use of natural stone flooring has played a prominent role in creating the highly desired seamless transition from indoors to outside.
A perfect example of this is the use of our fabulous Raj Beige flagstone flooring for the recent refurbishment of a house in London.
A seamless flow of limestone floor tiles
This project involved a full refurbishment of a terraced house, with an extension to the kitchen, a garden room and a loft conversion. One of the main design features for this home in Ealing, London, was a continuous flow of limestone floor tiles throughout the inside spaces, as well as out to the garden. Using our limestone kitchen tiles allowed the flooring to beautifully tie all the spaces together, giving continuity though the kitchen and garden room, out to the limestone paving for the patio area.
Flagstone flooring the perfect choice for inside and out
Our Raj Beige limestone flooring was specifically chosen by the client, not just for its stunning qualities, but also for its suitability to be used both internally and externally. In total, 109sqm of our limestone floor tiles were used to create a fabulous open space, transforming the entire area with light and the beauty of nature.
The versatility of our limestone flooring makes it perfect for all areas, whether inside or out. And the delightful soft grey-beige base colour, with fabulous tones of gold through to pink, make this natural stone flooring a stunning addition to any size or style of property.
The versatility of natural stone flooring
Gently brushed and tumbled, the Raj Beige works as wonderfully as kitchen floor tiles as it does as external limestone flooring, for the finishing touch to your outside area. This wonderful limestone flooring was also recently chosen by award-winning Rixon Architects, for a luxury Cotswold home design, again for its fabulous qualities and versatility to be used throughout the home and into the outside areas – perfectly embracing the nature-inspired concept of 'bringing the outside in'.
To find out more about our Raj Beige limestone floor tiles, and our complete range of flagstone flooring, visit our Cirencester flooring showroom, or you can click here to order a flooring sample.