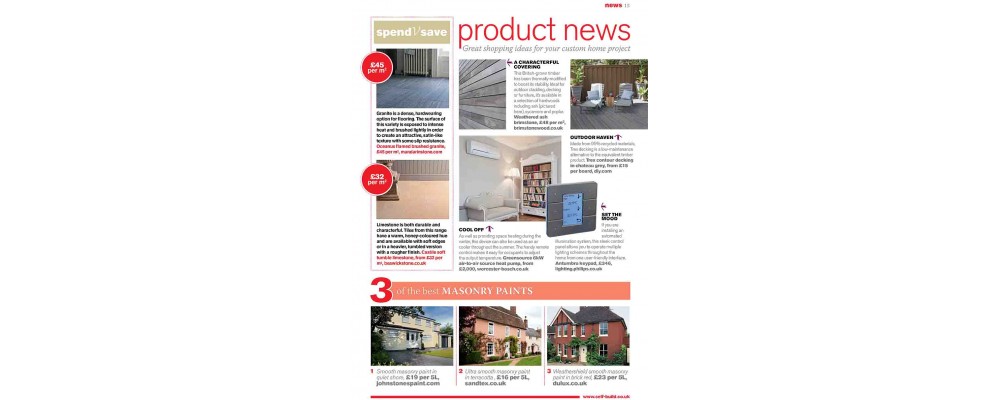 We are delighted that our Castile Soft Tumble limestone flooring has been highlighted as a stunning and cost-effective flooring option in July's issue of Build It magazine.

Build It magazine is Britain's longest running self-build magazine, and an indispensable monthly guide to custom home building, DIY and renovation. Each edition offers inspirational ideas, in-depth features, project guides and expert advice.
Beautifully finished limestone floor tiles
The delightful Castile Soft Tumble limestone floor tiles offer a wonderful, delicate finish, with subtle fossil detailing and gorgeous shades of honey. This is a particularly popular pale limestone, as it's extremely hardwearing, making it perfect for areas of high traffic. The magazine commented on the durability, character and finishes of our limestone tiles, saying:
"Tiles from this range have a warm, honey-coloured hue and are available with soft edges or in a heavier, tumbled version with a rougher finish". Build It July 2016
We have a fabulous variety of finishes within our extensive range of natural stone tiles, so you can find the perfect limestone floor – whether you're looking for traditional or modern, whether inside or out. The satin-smooth finish of our honed tiles is an ideal choice for a contemporary setting, as is a pillowed finish, where the edges of the tiles are soft and rounded. Our Avignon Honed and Pillowed Edge limestone flagstones demonstrate the beauty of these two finishes working together. This truly stunning French limestone has also been hand aged, giving a heavily worn riven surface, for the look of reclaimed rustic stone.
Limestone tiles with a tumbled effect
Both our soft tumbled and heavy tumbled floor tiles have a delightful soft, smooth and worn look, with heavy tumbled being more rustic. These are a marvelous choice for any room in the home, and some of these limestone floor tiles are suitable for exterior use. Our Old Heritage is a gorgeous mid blue-grey limestone, which has been hand distressed for a lovely aged finish and works fantastically in busy living spaces and any outside area.
A colourful array of limestone tiles
Our natural stone tiles are available in a range of glorious colours, from the exquisite golden shades of light and medium beige, to highly contemporary and soulful black limestone. Our Cathedral Black offers a lovely dusky black floor, with golden highlights adding fantastic depth and character, while our Raj Black flagstone is a beautiful, slick choice for both inside and out. Grey limestone is exceptionally sought after and we have a wonderful selection, from the delicate light grey tones of our Villers Grey Soft Tumble, to the shimmering silver hues and distinguished detailing of our Silver limestone.
Limestone flooring to suit every budget
With fabulous limestone tiles ranging from just £25 plus VAT per metre for our Hebron Cream, to £90 plus VAT per metre for Jerusalem Gold Honed and Pillowed, you can find your perfect limestone flooring at a price that's right for you.
To find out more about our magnificent Castile Soft Tumble limestone flooring, and our extensive selection of natural stone floor and wall tiles, engineered wood flooring and porcelain tiles, visit our showroom in Cirencester. Alternatively, you can order flooring samples via our website.