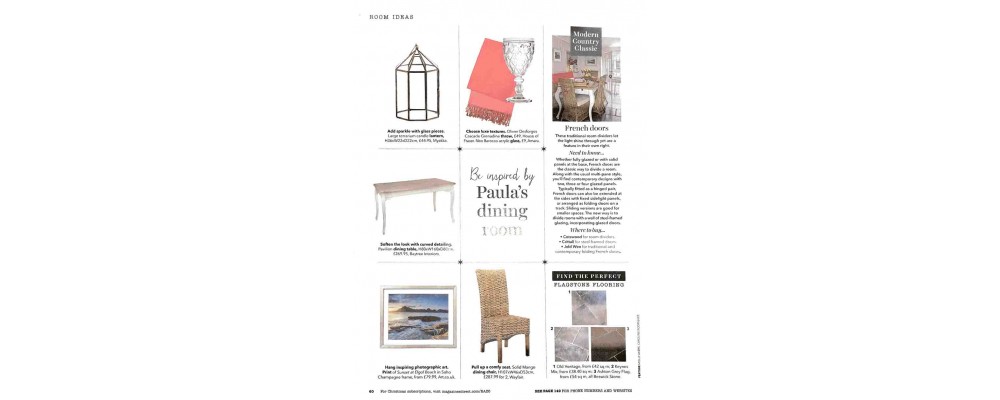 At Beswickstone, we're proud to have had our flooring featured in many interior design and home renovation magazines. And we're delighted to see our flagstone flooring and parquet porcelain flooring showcased in December's editions of two highly popular publications – Country Homes and Interiors, and Grand Designs.
Flagstone flooring
Three of our natural stone tiles, from our extensive range of flagstone flooring, are in December's issue of Country Homes and Interiors magazine. This is the UK's only magazine dedicated to modern country style and, via print and online, reaches over 1.1 million people, in 56 countries. Our Old Heritage, Ashton Grey Flag and Keynes Mix flagstone floor tiles feature in the 'Room ideas' section, under the title 'Find the perfect flagstone flooring'.
Our Old Heritage flagstone floor tiles are hand-distressed for a lovely aged finish. In gorgeous mid-blue grey tones, with highlights of silver through to charcoal, these limestone floor tiles bring an elegant look to any area of the home. With a unique blend of two neutral colours, our Keynes Mix presents a wonderful light-toned natural stone flooring, for a finishing touch to both traditional and modern interiors. For timeless style, the aged Ashton Grey Flag natural stone tiles have a stunning, smooth hand-worn finish, to perfectly complement the dark tones, creating a floor of depth and interest in any setting.
The advantages and beauty of flagstone flooring
As well as being highly attractive and versatile, natural stone flooring can last a lifetime, making it exceptionally good value for money. No two flagstone floor tiles are the same, offering a charming and unique floor with exquisite natural shades. Flagstone flooring has the added benefit of being very easy to look after and keep clean. And, as a great conductor of heat, limestone flooring will adjust to the temperature of the room, as well as work brilliantly with underfloor heating.
Available in many colours and finishes, there's a flagstone floor tile to suit every interior design theme, as well as external projects too. Limestone flooring is perfect for any room in the home, whether a wet room, like the bathroom or kitchen, a cosy room, like the lounge, or somewhere that sees a lot of footfall, like the hallway. From a modern property with a contemporary interior, to a period cottage with traditional décor, natural stone tiles are a fabulous, attractive and hardwearing choice.
Parquet porcelain flooring
Our fabulous parquet porcelain flooring is featured in December's Grand Designs magazine. This is the official monthly publication to accompany the hit Channel 4 television series, and provides readers with all the ideas they need to create their dream home. Our parquet flooring is promoted as the perfect choice for anyone wanting the beauty of wooden flooring, with the durability of porcelain. Readers are invited to: "Check out Beswickstone's parquet tiles in timber tones. Impervious to water, resistant to wear and tear, and easy to maintain, they're available in four shades – Neutro, Biondo, Bruno and Grigio. The pieces can be mixed together and laid in different designs to mimic a parquet pattern".
The many benefits of porcelain floor tiles
As the magazine commented on, our porcelain parquet flooring has a low absorption rate, making it extremely durable, hygienic, stain resistant and easy to clean. These porcelain floor tiles are also incredibly strong. Advances in printing technology allow us to create wonderful wood-effect parquet flooring, offering all the intricate beauty, detailing and characteristics of the real thing.
Perfect for anywhere in the home, the excellent qualities of porcelain floor tiles allow you to create magnificent, chic parquet flooring in wet areas and those that see even the highest levels of traffic, like kitchens, hallways and living rooms. A highly on-trend flooring choice, our porcelain parquet flooring is as beautifully suited to a period-style property and traditional décor as it is to a contemporary one. With the four dark, natural, honey and whitewashed timber tones, you can create a stunning floor in herringbone, woodblock or any parquet pattern you desire. And, by using a mix of colours, you can achieve an exceptionally authentic feel.
Feeling inspired? Look at our Pintrest boards for even more fabulous flagstone flooring and parquet flooring ideas. To find out more about our extensive collection of natural stone flooring and porcelain floor tiles, visit our Cirencester tile and flooring showroom or order a flooring sample online.