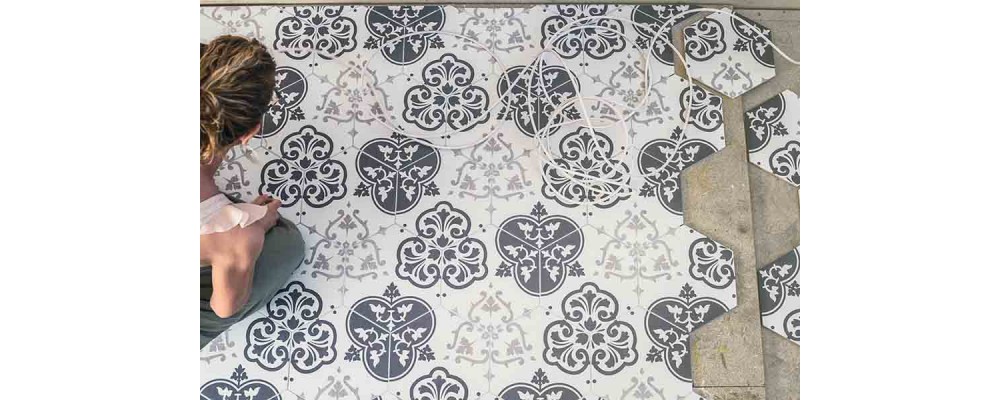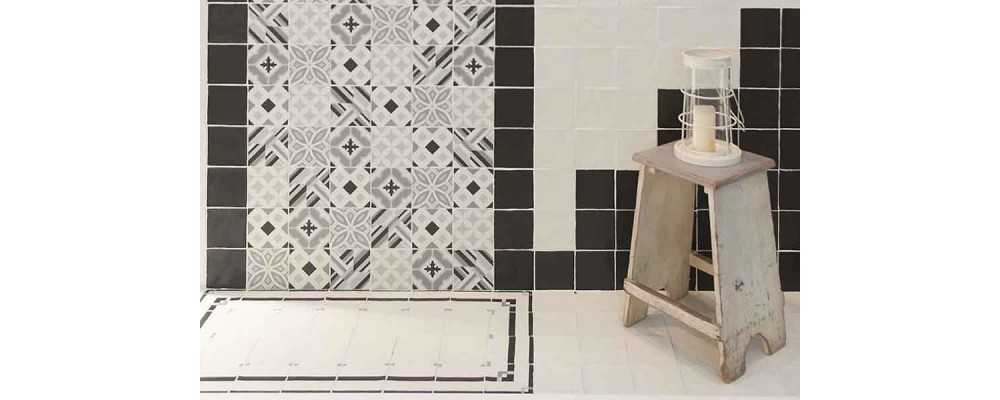 Patterned and geometric tiles have made a real comeback, and are now seen as an absolute must-have in interior design. The vast array of decorative porcelain tiles available, in fabulous patterns, styles, shapes and sizes allows you to really let your creative juices flow.
However, it's important to think about the style statement you want to make. Because, like so many fashions, it's all too easy to get it wrong. This simple guide will help you on the right path to creating the impact you desire.
Consider the style of your decorative porcelain tiles
Firstly, think about the style you want – traditional, retro, vintage? Traditional is a highly popular choice with many and is ideal in period-style homes, for decorative floors, kitchens and bathrooms. A traditional patterned decorative tile can also give a great twist to a contemporary setting. The retro look is a big interior-design trend at the moment, bringing a hint of the 70s back to the most stylish homes. Shapes can also play a big part here – it's not just all about the pattern, you can create a simple retro effect with a hexagonal tile, in a solid colour. Vintage floor tiles and wall tiles are a fabulous way to inject some personality into your home, and look great within a minimalistic, contemporary design.
How and where to use patterned and geometric tiles
While beautiful decorative porcelain tiles can create a bold pattern across a large area, this can be overwhelming. It's all about getting the balance right. You don't want your room completely dominated by patterned floor or wall tiles. Using perhaps six or eight as a splashback adds a chic touch to a bathroom or kitchen, or a column of geometric tiles around a fireplace creates a stunning, yet subtle effect. Alternating decorative porcelain tiles with plain tiles is also a good idea.
If you're using patterned and geometric tiles on the walls, they look best if they're framed, like set in an alcove, so you can clearly see where they start and stop. You can even create a frame using wooden mouldings that you can paint. In a bathroom, geometric tiles look highly stylish on a bath panel and, in the lounge, decorative porcelain tiles can create a fabulous impact when used on a chimney breast.
Laying decorative porcelain tiles
Always draw up the pattern you want first, so you have this to follow when laying your tiles. This is especially important if you're using professional tiling services, so your installer has a clear idea of the effect you want to achieve.
Patterned and geometric tiles look best with only a small space between each one. So, when laying them, place the tiles very close together. A soft grey coloured grout works especially well with decorative porcelain tiles, depending on the colour, rather than a stark white that can detract from the pattern. But if you're using a combination of patterns, or framing an area with a plain tile, different colour grouts can create a nice contrast.
The Beswickstone range of decorative porcelain tiles
Our magnificent collection of patterned and geometric porcelain wall and floor tiles can instantly transform any room of the house.
The Madelaine décor range offers beautiful glazed decorative porcelain tiles, in a choice of wonderful warm cream, pure white, soft brown and jet black, with four solid coloured porcelain tiles to perfectly complement the patterns. These exquisite tiles can be used in unlimited designs; to create the effect you desire for your floor or wall.
Stunning hexagonal designs in our Alchimia 'Hex' Hexagon porcelain tiles present endless opportunities for creating visually stimulating floors and walls. The beautifully patterned Esagono Elisir will add real panache to any area, and the bold blacks and whites of the Esagono Bianco & Nero's mixed arabesque motifs produce a rich Wedgewood blue effect. With subtle white and grey, the Esagono Bianco & Grigio effortlessly creates wonderful depth and interest, while the bold block colours of Esagono Solids allow you to create your own, truly unique pattern.
The Tangier porcelain collection blends lovely grey hues into striking ethnic inspired geometric tiles. With stunning patterns and a myriad of options when it comes to creating a feature, you can let your imagination run wild. The four different patterns in this range can be used alone, mixed with each other or combined with the solid grey porcelain tile, for an inlaid design.
To find out more about our patterned and geometric tiles, and our complete selection of porcelain wall and floor tiles, please visit our Cirencester showroom.