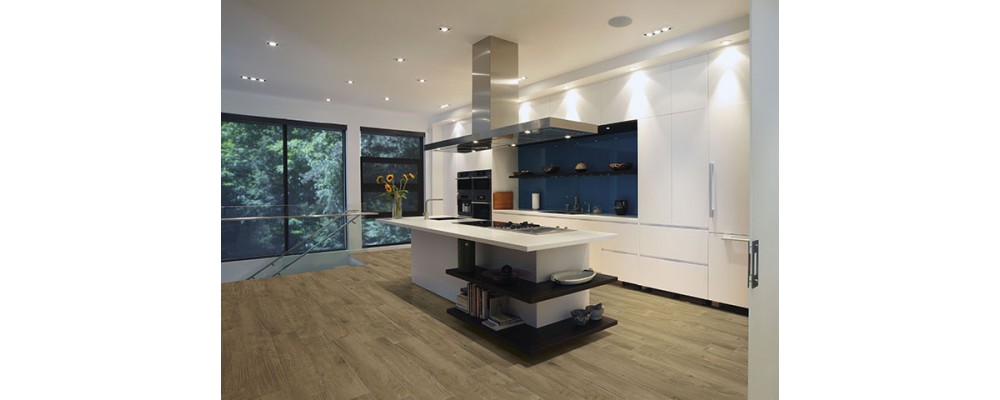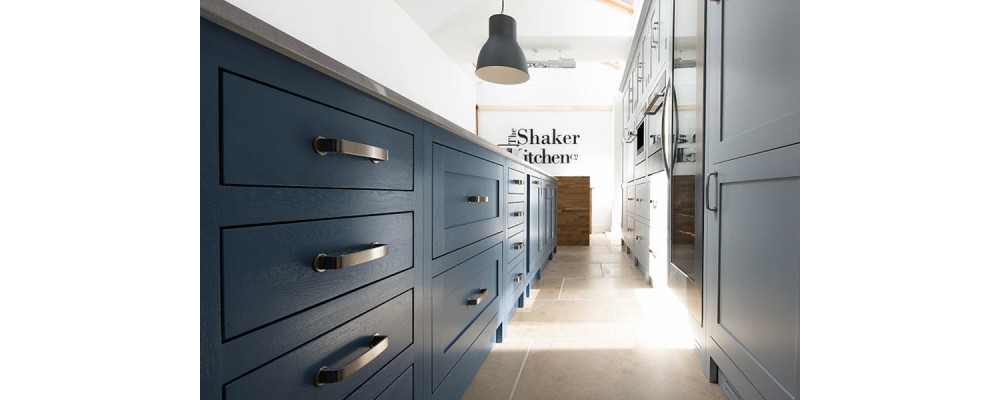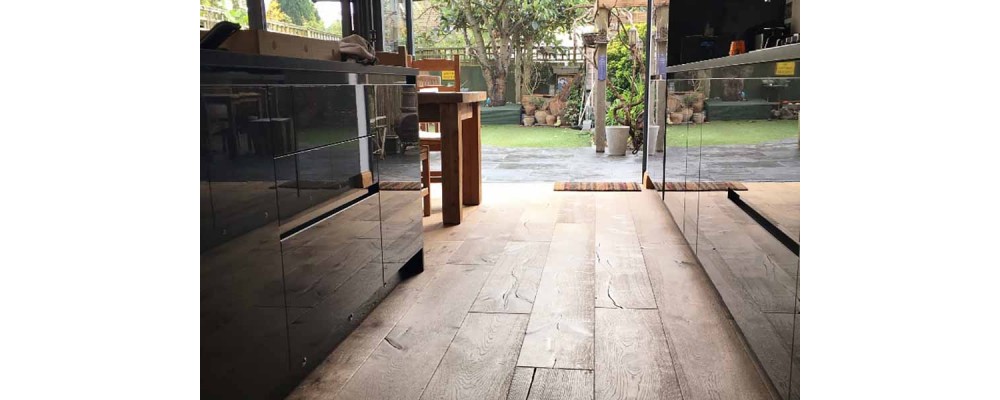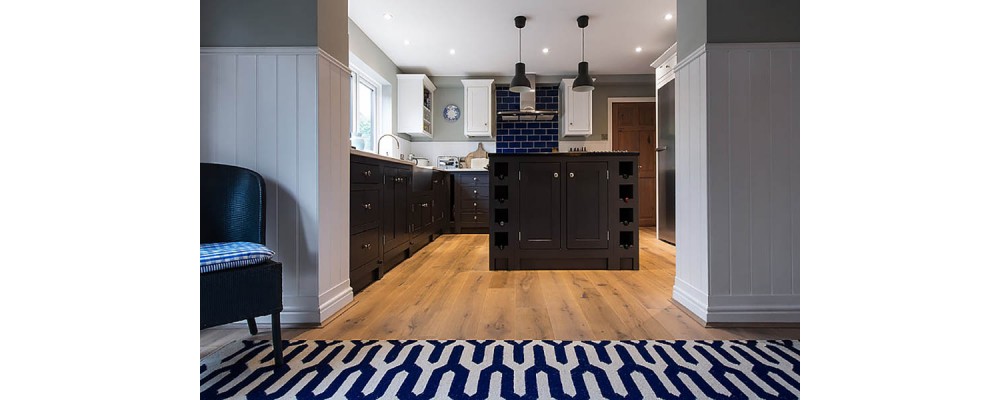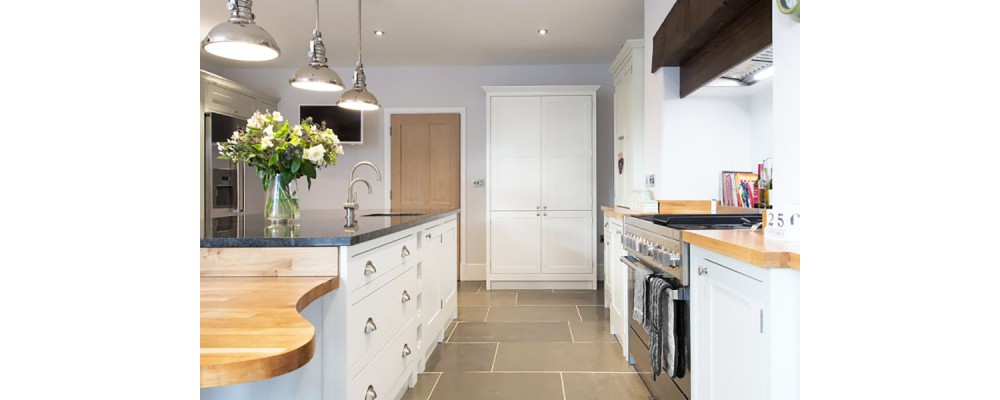 Image courtesy of The Shaker Kitchen Company
Nature is by far the most prolific interior design theme for this year – kitchen floors, walls, surfaces and furniture will be inspired by the notion of 'bringing the outside in', with wood and natural stone playing a highly significant role.
Natural textures
With the trend for bringing natural stone into the home, we'll see the beautiful, textural elements of stone tiles, such as limestone, flagstones and travertine sitting fashionably within both modern and traditional kitchens. While sleek stylings and clean lines will retain their popularity, textured floor tiles will be a fundamental pairing, to add interest and flavour.
Polished stone will be widely used for kitchen work surfaces, with brick tiled splashbacks continuing to be prominent, again encompassing the outdoors/indoors trend. Textured stone tiles and wooden floor surfaces will be key, as people seek a new floor with an 'old', rustic appearance.
The beauty of wood
The versatility of wood makes it the ideal flooring choice in the kitchen. Demand is gravitating towards wide, long-plank and multiple-sized wood flooring, to add depth and interest, as well as making smaller rooms appear larger.
Engineered wood flooring is set to continue as a favoured alternative to solid wood, for its stability and hardiness. And we'll see the return of more classic looks, like chevron and herringbone, for those desiring a floor of charm and character.
At Beswick Stone we supply flooring to The Shaker Kitchen Company, both for their customers and showroom, where engineered wooden flooring is proving to be a highly popular choice.
Image of The Shaker Kitchen Company Cirencester Showroom
"Dark colours are very popular, working alongside marble worktops, and many people are choosing various shades of grey – Anthracite Grey is one of our most popular colour finishes. We're seeing herringbone wood floor being used a lot alongside these dark colours, to mix it up a bit and give warmth. While dark colours and marble worktops create a big impact, customers are seeking ways to soften the look and engineered wooden flooring is becoming a really popular way of doing this.
We showcase this look in one of our display kitchens in our Cirencester showroom."
Tim Grunfeld – The Shaker Kitchen Company
Colours and patterns
Grey will retain its title as the colour choice for kitchen floor coverings in 2016, whether warm charcoal or light steel tones. This will also be a popular option for cupboards and work surfaces. Earthy, nature-inspired, calming hues will also be used to give a busy kitchen a more relaxed feel. But white isn't going anywhere – this will remain as a staple favourite for kitchen walls, tiles and cupboards. And predictions are the demand for lighter wood flooring tones, particularly whitewashed, will increase dramatically.
We'll see a further rise in the use of statement-making tiles in the kitchen, with geometric patterns making their way to the forefront. Whether it's a splashback, worktop or intricately patterned floor, the elegance of fluid geometry is coming in strong. Look out for our exquisite new porcelain tiles we'll be introducing this spring
Combining materials
Shifting away from the long-standing idea of 'matching', we'll see a move towards experimenting with a mixture of materials in the kitchen. Combining man-made with natural materials will create added interest, and complementary or contrasting textures offer both practicality and style. Mixing, not matching, will be a key element of this year's most fashionable kitchen designs.
To see our full collection of wide-board engineered oak flooring, natural stone and porcelain floor tiles for kitchens, visit our showroom in Cirencester, or click here to order a sample.
Kitchen image credits
Images accompanying this article have been kindly supplied by The Shaker Kitchen Company and Rixon Architects