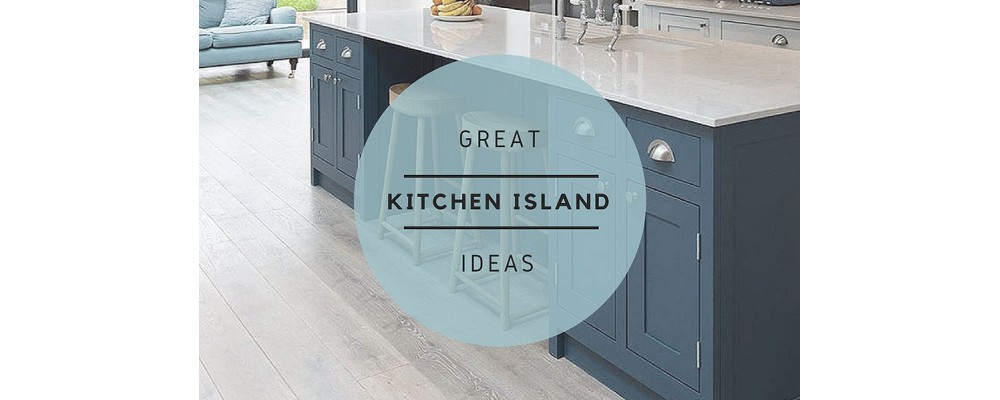 A kitchen island is, for many, the epitome of a dream kitchen. Style, practicality and the wow factor are just some of the reasons a kitchen island is at the top of many people's wish lists.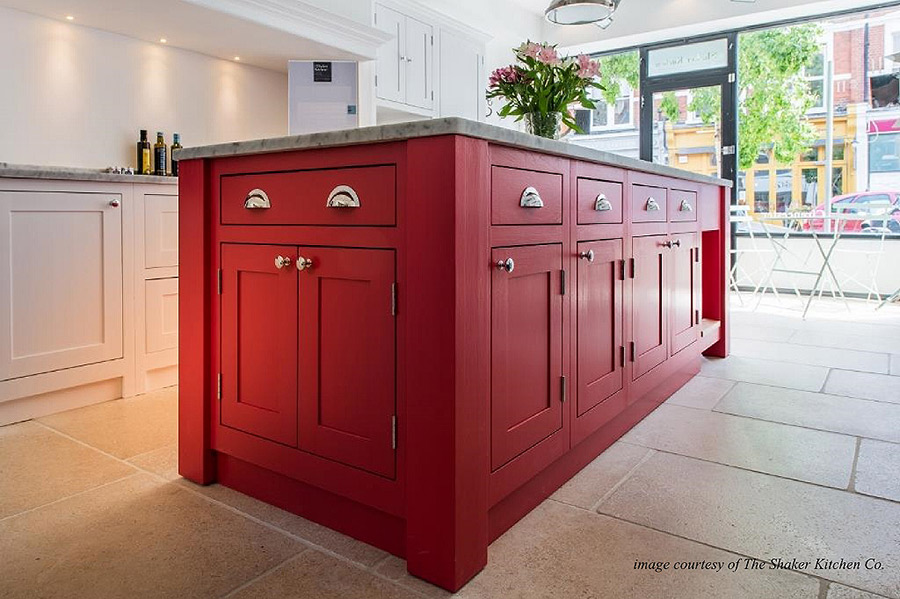 Alongside extra storage, entertaining space and relaxed family dining, kitchen islands can open up a world of opportunities for stylish statement making, when considered alongside kitchen flooring. Whether coordinating with your floor or making a bold contrast, here are some tips for making the most of this must-have kitchen feature, and finding the perfect kitchen flooring to go with it.
How do you want your kitchen island to function?
What you want from your kitchen island is the first thing to think about. Are you looking for a breakfast bar? Some extra storage? A place to prepare food or wash up? Perhaps you want it to be the hub of your kitchen, where the kids do their homework, you eat family meals and entertain guests.
A kitchen island doesn't have to be there just to look good; it can be used for clever storage on one side, while having bar stools on the other. To perfectly complement this design, our Avignon soft tumbled limestone flooring is a wonderful choice. With soft tumbled edges and a gently aged surface, these kitchen tiles boast delightful colour tones and delicate fossil highlights. Alongside a stylish kitchen island, this flagstone flooring can help to completely transform your kitchen.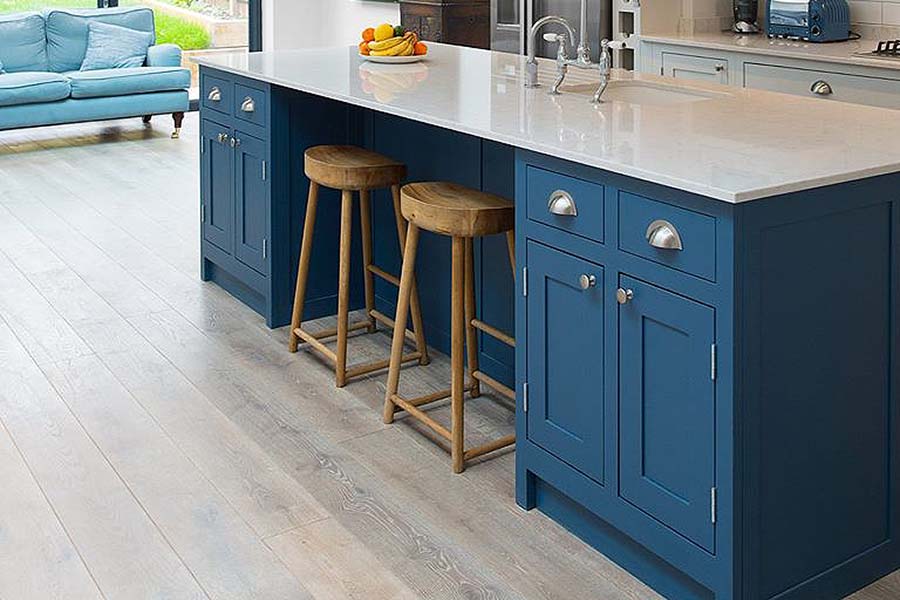 Encompassing your kitchen island as part of the furniture is another fabulous way to create extra space with an abundance of sophistication. Positioning your dining table adjacent to the island can create an ultra-chic dining area, and your kitchen flooring can further add to the ambience by creating a stunning backdrop. Our Burlington Grey stone effect porcelain tiles are the perfect accompaniment to this design. Inspired by gorgeous Cumbrian slate, they offer subtlety alongside distinction, in the very latest must-have shade.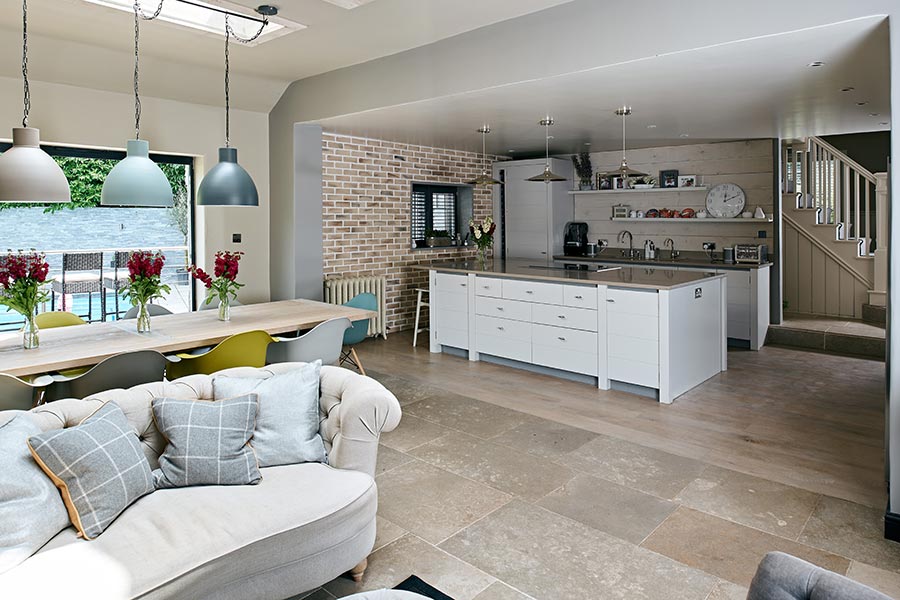 Choose the shape of your kitchen island
Depending on how you want your kitchen island to function, there are various different designs to choose from. An L-shaped island can flow with your kitchen or be used to fill in a blank space. Generally large with generous amounts of storage, L-shaped kitchen islands offer an abundance of workspace. With a U-shaped island you can really increase the efficiency of your kitchen. Highly functional and spacious, this design can encompass extra storage, more work space, room for seating and, if big enough, can house more than one appliance too. For a more straightforward design, galley islands are a great fit for any kitchen. Perfect for open-plan kitchens, galley islands offer maximum storage space with no corners of curves and are ideal for bar-style seating. To inject personality and an interesting visual dimension to your kitchen, a circular island can offer vast prep space and expansive seating areas.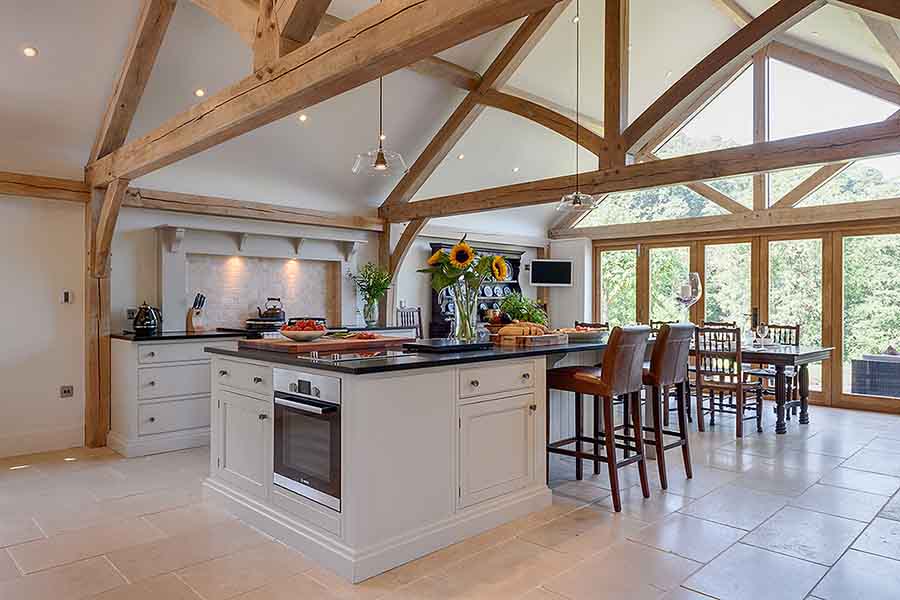 Kitchen flooring for the finishing touch
Complete the look with the perfect kitchen flooring. Whether natural stone tiles, limestone flooring or stone effect porcelain tiles, the combination of your kitchen island and your kitchen flooring can create your dream design. Large kitchen tiles can help to open up a smaller space, while smaller format tiles offer fabulous versatility in any sized room. Our beautiful Lloyd tumbled limestone is a stunning and hardwearing flagstone floor. Hand aged in gorgeous sandy Cotswold colours, it works wonderfully with any kitchen island and is ideal for any improvement project.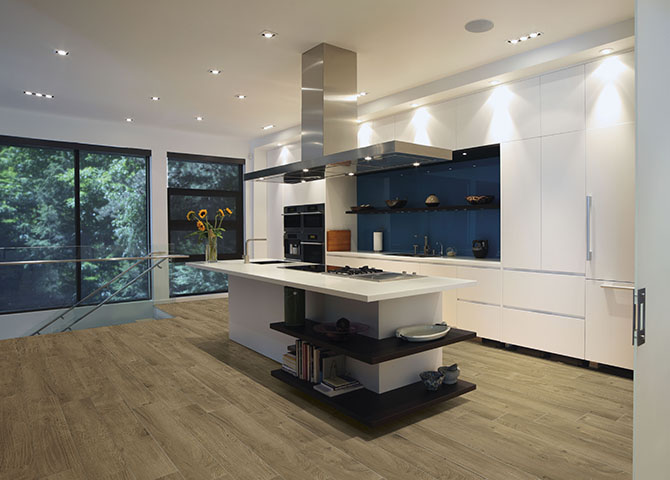 To find out more about our magnificent range of kitchen flooring, visit our showroom in Cirencester. Alternatively, you can order a flooring sample by clicking here.