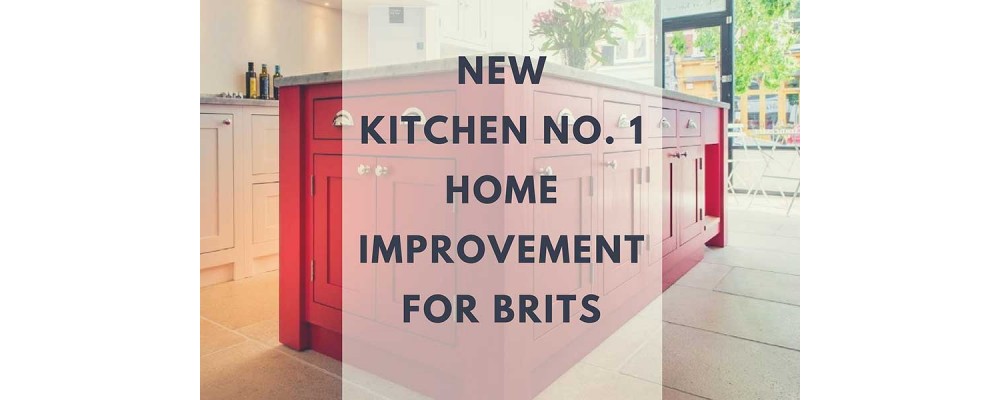 A study has revealed that the top upgrade Brits want to make to their homes is a new kitchen. According to the research, conducted by YouGov and John Lewis Finance, over a fifth of people (22%) have a desire for fitting a new kitchen, 20% want a garden makeover, while 16% would like a new bathroom. Extra space in the home also featured on people's wish lists, with 10% hoping for an extension, 7% a loft conversion and 5% a conservatory.
From kitchen flooring to statement splashbacks, there are a myriad of ways to stylishly upgrade your kitchen – without necessarily even needing a complete re-fit. At Beswickstone we have everything you need to completely transform your kitchen, for the home improvement you desire.
Stunning porcelain kitchen flooring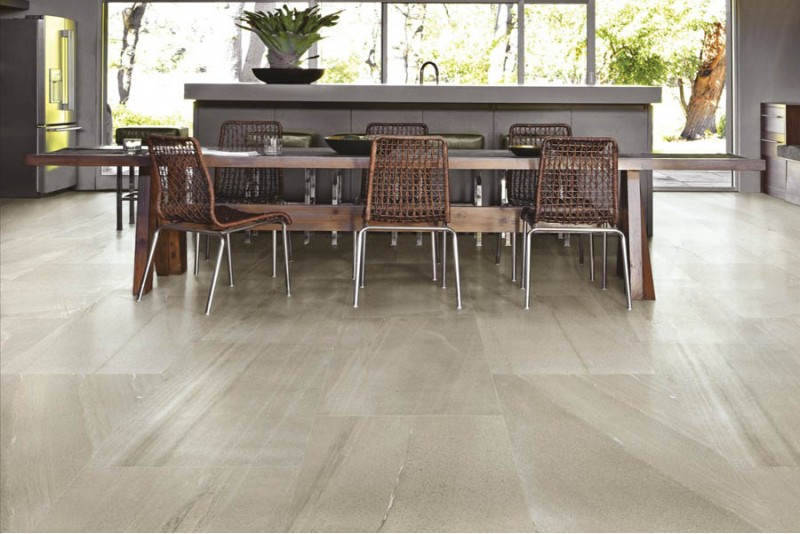 Your choice of kitchen flooring can be one of the best investments you make when it comes to a new kitchen design. There are so many materials, styles, effects and colours to choose from, to suit every design and theme. Porcelain kitchen tiles are a fabulous addition to any home, particularly where lives are busy and floors have to withstand a lot of footfall, as they are exceptionally durable and easy to look after. Our selection of kitchen floor tiles includes stunning colours and designs, from highly realistic wood and stone effects, to decorative geometric and vintage tiles.
Beautiful flagstone flooring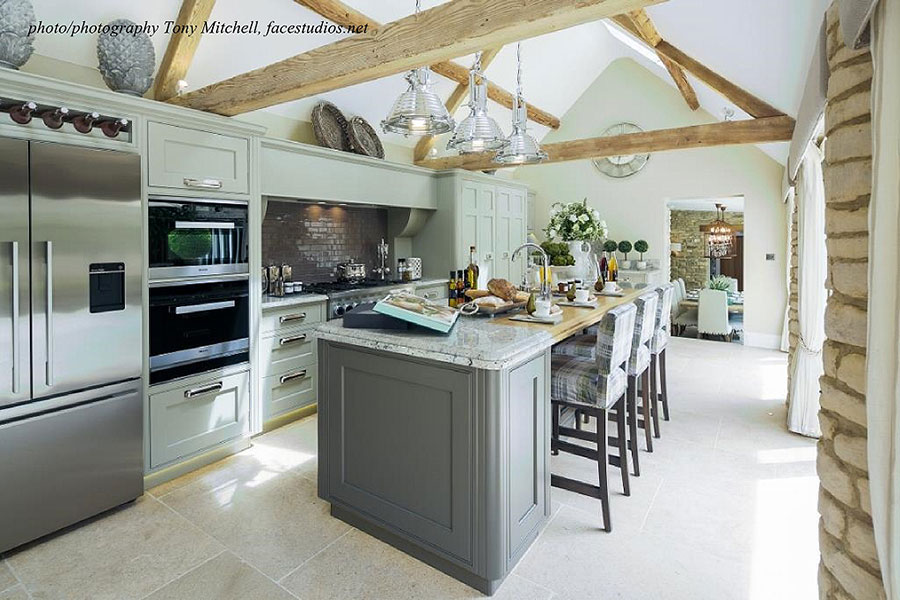 Whether traditional or contemporary, natural stone flooring adds sophistication to any new kitchen. We have a wonderful range of high-quality stone flooring and flagstones, in an exquisite variety of textures and colours. From Cotswold-style flagstones to limestone kitchen floor tiles, our selection includes gorgeous aged stone, with a delicate distressed look, and grey limestone flooring for timeless class.
Stylish engineered oak flooring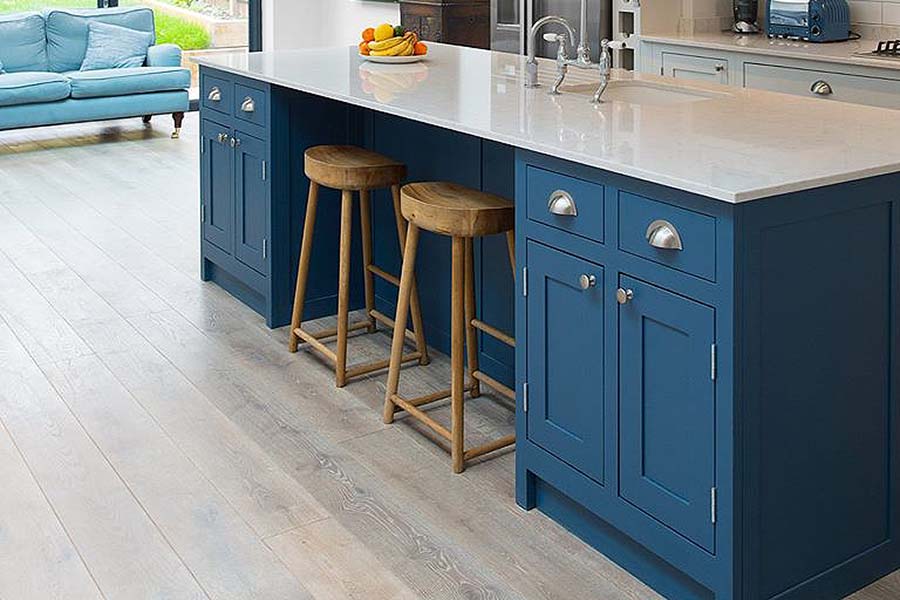 Hugely popular and exceptionally hardwearing, engineered oak flooring is a fabulous choice for a new kitchen. With the gorgeous look and feel of a solid wood floor, engineered oak delivers a delightful authentic look. We offer an extensive and unique range of engineered oak flooring in a beautiful selection of colours and styles, to suit any property type and all tastes and budgets. From pale to dark oiled, from whitewashed to smoked, from rustic to antique, our engineered wood flooring presents the perfect centrepiece for any kitchen.
Fabulous kitchen wall tiles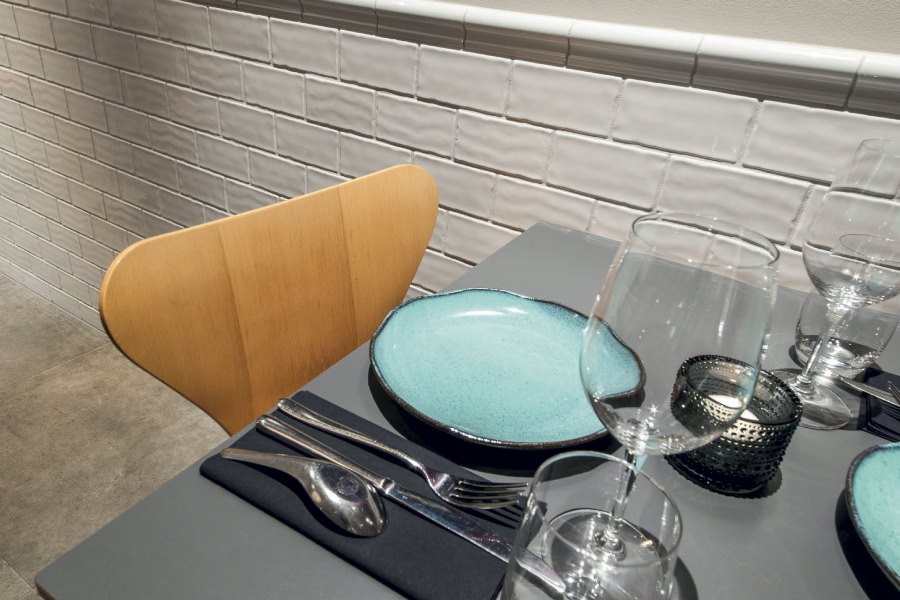 Inject style, sophistication and character to your design with your kitchen wall tiles. Digital printing technology has truly revolutionised porcelain tiles, with an abundance of colours, textures, finishes and patterns now available, including geometric, metro and herringbone. Whether you want to make a statement with a feature wall or create a stunning splashback, we have a wide range of kitchen wall tiles to suit both modern and period kitchen designs.
Gardens, bathrooms and extensions
If you're one of the 20% of Brits who wish for a garden makeover, we have a wide selection of natural stone tiles and porcelain tiles that can be used as outside paving. Highly durable and versatile, our external tiles are available in an array of gorgeous tones, from subtle beige, gold and pink, to shimmering grey, silver and charcoal.
For the bathroom, stone tiles and porcelain tiles offer sophistication and durability, to create the perfect ambience. From travertine and limestone flooring, to decorative porcelain wall and floor tiles, we have a selection of bathroom tiles in an array of colours, styles and effects to help you create any design and enjoy long lasting beauty. And, if you're planning an extension, loft conversion or conservatory, our natural stone flooring, porcelain floor and wall tiles and engineered oak flooring will give any space a beautiful finishing touch.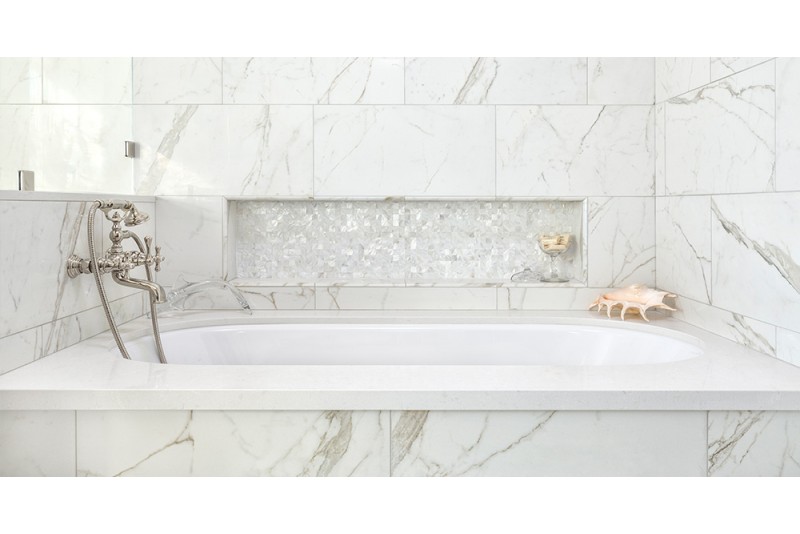 The research also found that if money and space weren't limited, a swimming pool would be the dream of 26% of the people surveyed. We can also help here, with our range of porcelain tiles offering a stylish, hygienic, water-and slip-resistant poolside.
Unsurprisingly, monetary constraints stop Brits from splashing out, with 63% of those surveyed admitting budget issues stop them from fulfilling their makeover dreams. With any home improvement project, it's important to invest in quality products as you may end up spending more in the long run. Our stone flooring is of the highest calibre and designed to stand the test of time. Find out more here.
Whatever your home improvement project – from a new kitchen to a loft conversion – why not visit our large showroom in Cirencester to gain inspiration for your design? We have stunning displays and floor sets, so you can see our flooring and wall tiles in situ. Alternatively, you can click here to order a sample.