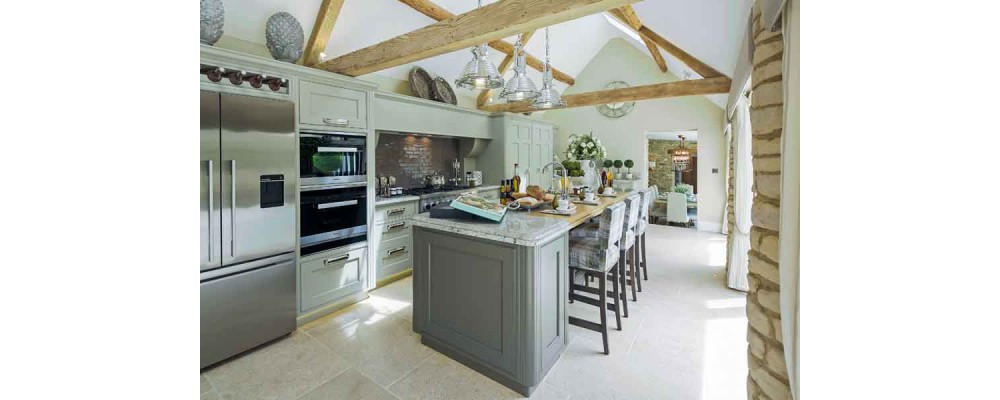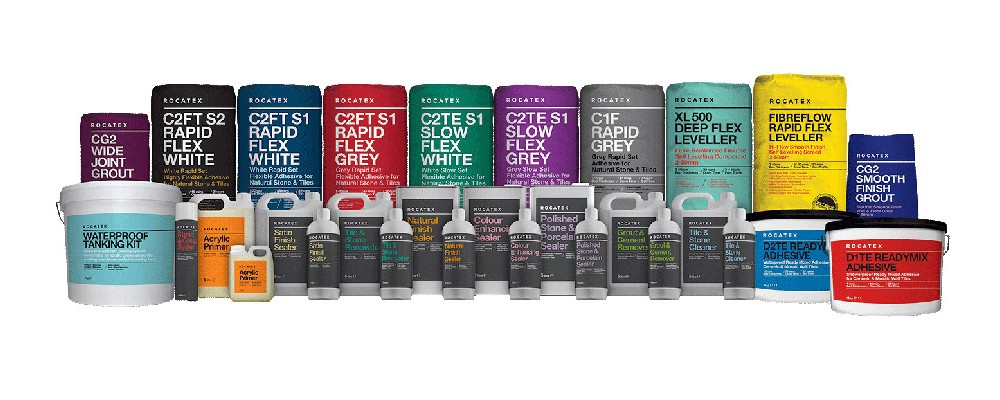 Sealing natural stone flooring such as limestone is essential not only to help prevent stains, but also to protect and enhance the surface of the tile. At Beswick Stone we're proud suppliers of the ROCATEX range of natural stone tile sealers, to assist with the care and maintenance of limestone flooring.
Sealants for natural stone flooring such as limestone are available in two types, impregnating sealants and water based sealants. Both types of sealant will protect natural stone floor tiles from water ingress, dirt and staining.
Types of sealant for natural stone floor tiles
An impregnating stone floor tile sealer is spirit based and seals just below the surface, without altering the characteristic of the tile. While they can strengthen the floor tile and prevent staining, this kind of stone sealer will not protect the tile's surface from wear and will not generally alter the colour or appearance of the stone.
For surface wear protection or to achieve an alternative finish, a surface sealer should be used, and these types of stone sealants are usually water based. Choosing the appropriate sealant for your natural stone will depend upon where it is to be used and the appearance you wish to achieve.
Choosing the right natural stone sealer
Both water-based and spirit-based limestone sealers perform well on their own merits. For environmental reasons, water based stone sealants are increasing in popularity, but spirit based are still favoured for ease of application and suitability of sealing limestone and natural stone floors in wet areas both inside and outside.
The ROCATEX Natural Finish impregnating stone sealer is the most popular in the range, giving a matt finish and stain protection. To enrich the matt appearance, you can combine this with the ROCATEX Colour Enhancing sealer, which can be used for both interior and exterior tiles.
To alter or enhance the natural look and texture of your tile, the ROCATEX Surface Satin sealer is suitable for sealing limestone floor tiles, sandstone, slate and travertine.
How to seal limestone and natural stone floor tiles
Natural stone is porous and it is therefore necessary to protect natural stone flooring and tiles from water ingress and dirt to prevent damage, staining and to maintain the appearance of floors.
Cleaning natural stone flooring and tiles prior to sealing
Sealing natural stone tiles will trap surface dirt and dust deposits and therefore it is important to thoroughly clean natural them before they are sealed. Rocatex recommend cleaning natural stone tiles by the following method prior to sealing.
Dilute 1 part Rocatex Tile and Stone Renovator fluid with 10 parts of clean warm water.
Apply the diluted cleaning solution to the surface of the stone floor tile using a clean cloth or sponge.
Using a stiff brush or a Rocatex White Emulsifying Pad agitate the surface to release residual dust, dirt and grime.
Rinse the stone tile with clean water.
Allow the surface of the stone floor tile to dry completely, a minimum of 24 hours before applying the sealant is recommended.
Pre-sealing natural stone tiles prior to laying and grouting
Before you fix and grout limestone or natural stone floor tiles it is advisable to pre-seal them, by applying one or two coats of your chosen stone sealer and leaving to dry thoroughly in accordance with the instructions. This will help to protect the surface of your stone floor tiles and prevent any adhesive or grout residue getting trapped in the tiles' surface pores.
Final sealing of limestone and natural stone floor tiles
After your stone floor tiles have been fixed and grouted, you can completely seal and protect your tiles. Most types of natural stone will need two or three further coats, but very porous stone types may require more applications. Final sealing of limestone and other types of natural stone flooring will not only protect the tiles but also help to prevent the grout or pointing from becoming stained or damaged by water ingress.
Caring for sealed limestone and natural stone flooring
To prolong the life of your natural stone tiles, regular maintenance and cleaning is essential and natural stone floors will need resealing every three to five years depending on traffic and usage. If is also worth noting that cleaning natural limestone and other types of natural stone flooring with household detergents is not recommended as they can damage the protective sealant layer and may even damage or stain stone floor tiles.
Beswick Stone for natural limestone flooring and sealants in Cirencester
As limestone and natural stone flooring experts Beswick Stone stock a comprehensive range of natural stone cleaners, surface sealers, colour enhancers and after care products and our friendly and knowledgeable staff are on hand at our Cirencester showroom to offer advice and answer all of your limestone flooring questions. Contact us today or visit our Cirencester showroom for limestone flooring, tiles and Rocatex stone sealing and care products.