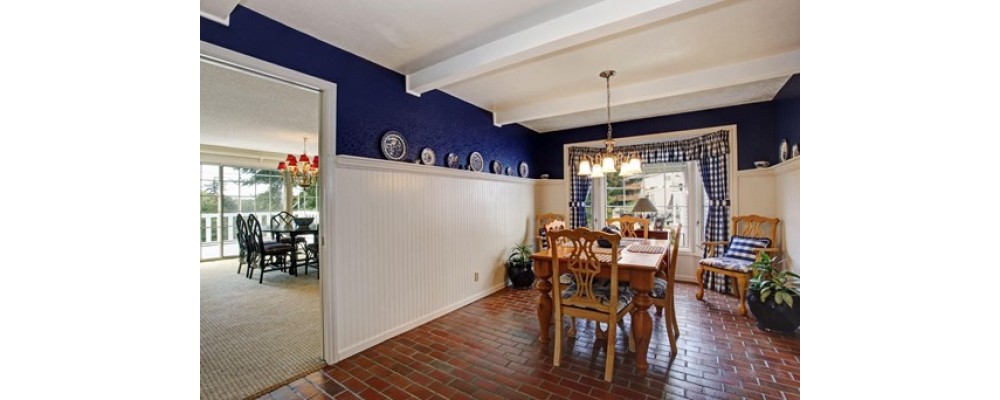 Rustic style is the design characteristic of country life - often described as simple interiors, rough walls, wood panelling, beams and rough stone. Natural finishes and minimal ornamentation characterise the furnishings. The style is full of unpretentious roots, organic textures and shapes that reflect natural warmth, making it one of the most popular styles. The simplicity and the natural look of the furniture represent the beauty of the past, and it is difficult not to be captivated by it. There is something very positive about rustic style in this virtual world, which is that it is boldly, blatantly real. Rustic style is very compatible with modern style.

A piece of rustic furniture can serve as an accent piece in a modern room. Or to create a cosy atmosphere, adding rustic flooring to your home is a great way of combining modern and rustic. A rustic floor can be combined with many styles of interior design because it is so simple and elegant. It is the perfect flooring for all communal rooms in the house, including the kitchen, living room, and hallway.

There are all kinds of flooring options out there, but none with the warmth and charm of a rustic oak floor, so we thought we would share why this kind of flooring is so popular and how to use it in the most stylish way possible.
Which flooring is best for a rustic look?
According to the Oxford dictionary, "rustic" is defined as having "simplicity and charm typical of the countryside". There is no better way for you to achieve this feeling in your home than with a natural timber floor.
Due to the unique appearance of hardwood flooring and the additional value, it adds to your property, hardwood flooring is extremely popular. Clean and stylish, it can be used to achieve a variety of different styles. If you're after that 'rustic' look, this is the perfect flooring material to utilise for your interior design.
How can you achieve a rustic effect using rustic flooring, and what should you be looking for when selecting your flooring? Keep reading to find out.
Rustic Grade
When it comes to wooden floors, you can choose from a variety of grades. According to the timbre grade, the floorboards will exhibit different natural features and characteristics.
The rustic grade of timber is characterised by its natural features such as knots, sapwood, splits, etc. To this end, when selecting your floor, you want to make sure that the grade you choose is best suited to your tastes. A rustic grade would be the best choice if you want to give your deck an old-world feel with more knots and characteristics.
Real Wood Chic
Real wood floors are the best way to create a truly rustic ambience. It is impossible to achieve the authenticity of a rustic floor with a wood replica.
Flooring options such as laminate and vinyl have certainly improved over the years. Nowadays, there are more options available than low-cost plastic floors of the past, such as boards with a matte finish, textured finishes, etc.
Real wood, however, cannot be duplicated because it is a natural product. A real wood floor is by far the best choice if you're looking for a rustic and authentic floor feel. Each board has its own unique natural grain pattern.
European Oak
If you are looking for a rustic wooden floor, European oak is a very popular choice. While oak can come in a variety of grades, European oak as a species is known for its character and warmth as opposed to other species such as Ash, Pine, and American White Oak.
European oak is a pale wood in its natural state and is, therefore, a versatile staining material. It can be stained and finished to achieve plenty of different colours that will suit your interior and complete the rustic flooring look perfectly. It is possible to achieve whitewashed, natural golden, as well as rich darker finishes with European oak.
Finish & Texture
Matte finishes (non-shiny) suit a more natural rustic look better, and oils have a more traditional feel to them than lacquers. For more information, you can call us to explain the differences, pros, and cons between oils and lacquers.

To achieve the exact colour you want, we recommend a high-quality matt oiled finish such as Treatex hard wax oil, which can be used along with other Treatex colour tones.

It's impossible to be right or wrong when it comes to colour. With the right timber and clear traditional finish, you can create a rustic floor, or you can stain the wood darker for a richer and warmer look.
Distressed Oak Flooring
Due to their extremely rough and rugged appearance, distressed oak floors are becoming increasingly popular as 'rustic' flooring options. Flooring designed to look distressed has splits, large knots, and texture similar to an old floorboard.
In an attempt to mimic the distressed look of a distressed floor, people have for years employed specialists to purposefully damage the surface of hardwood floors. The process involves the use of rigid wire brushes, sanders, and scrapers, as well as a lot of labour.
If this is the look you're after then fortunately nowadays you can purchase oak flooring that is supplied distressed, thus saving you the site work.
So Which Flooring Is Best For A Rustic Look?
There is no fixed answer to this question. It depends on your preferences along with your flooring supplier.
Our website has many articles that explore engineered oak flooring in great detail, including its differences from solid oak and the benefits of engineered boards. Take a look at our news and articles for more information.
For any Oakwood effect floor tiles, Oak parquet flooring, Oak planks, and Rustic oak needs browse our website for more information, or call Beswick Stone for any of your flooring needs!