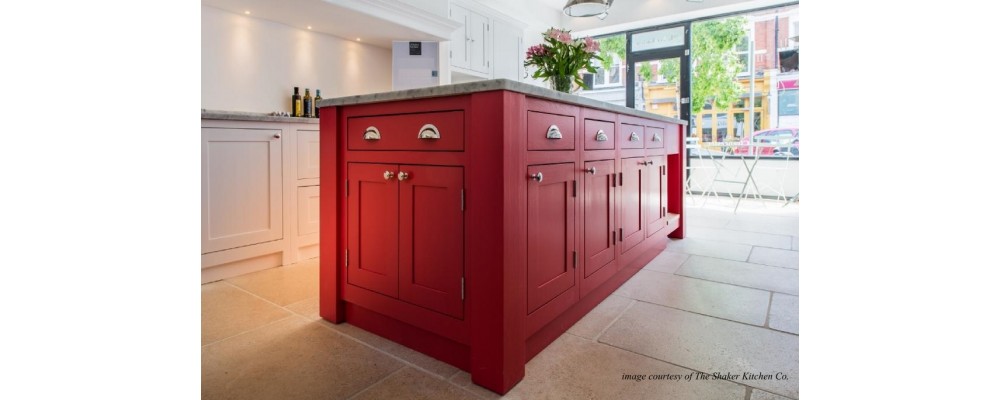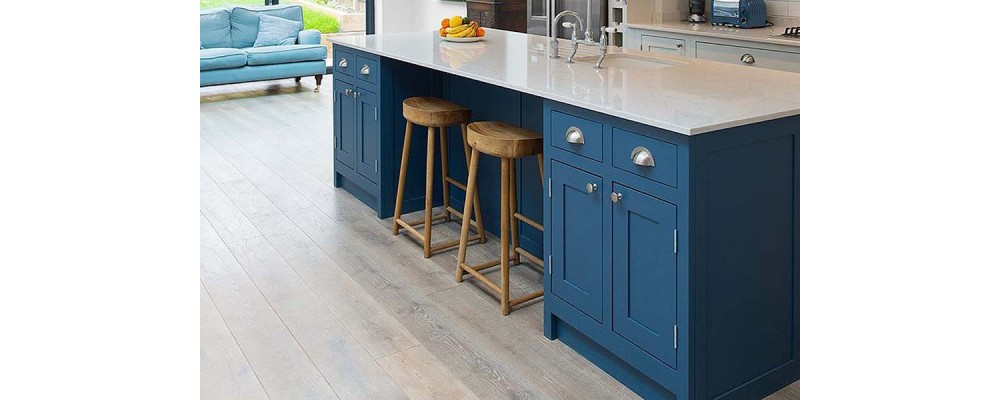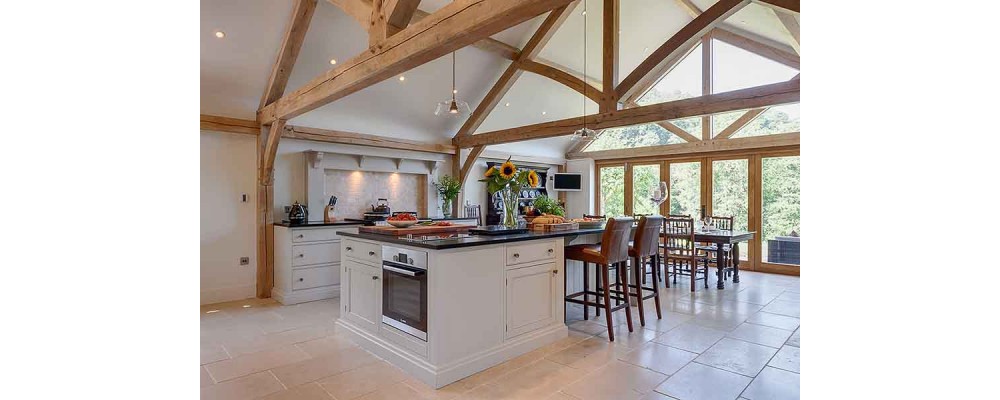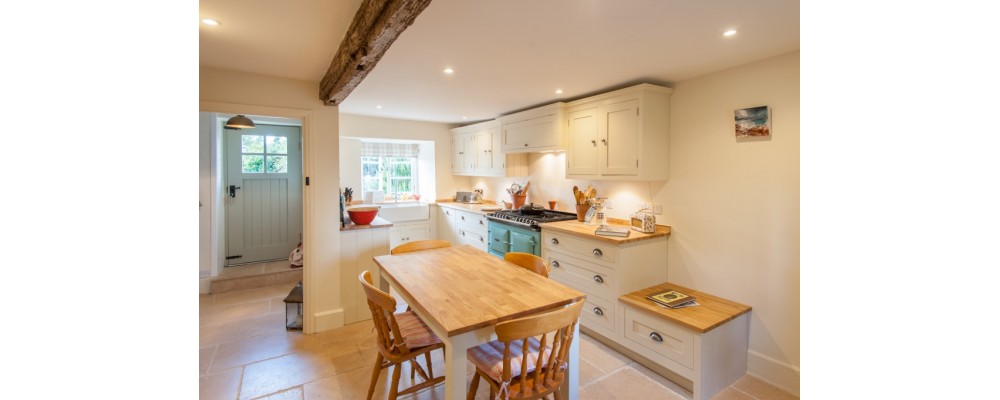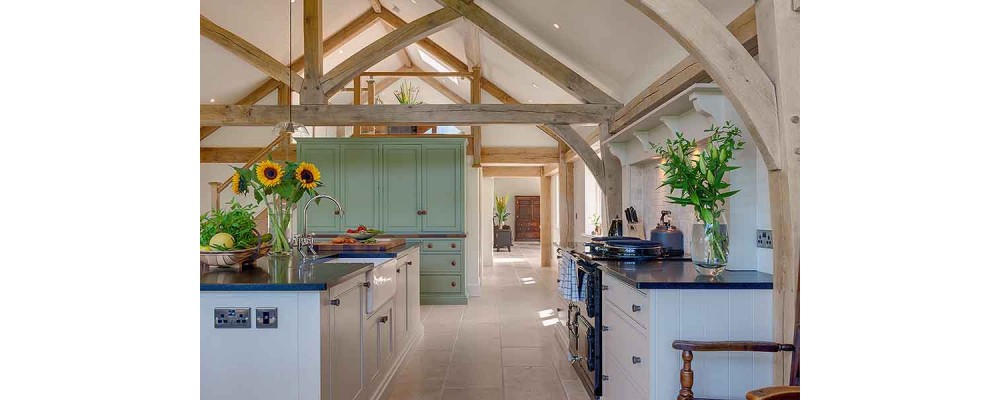 Ask the experts
To achieve the best possible outcome for your kitchen design there are many considerations, from the width of walkways and the height of worktops, to the right choice of kitchen floor. It's always a good idea to speak to an expert – whether an interior designer, kitchen flooring specialist or professional kitchen installer. But, remember, it's your kitchen so don't be afraid to stick to your guns if you need to.
Be space savvy
When designing a kitchen, put function first, says interior designer, Jacqui Hargrove. "There's no ideal kitchen shape," she says. "Whether it's a galley or U- or L-shaped, plan for the sink, fridge and cooktop to form a triangle, with no more than six feet between each, for ease of movement."
A small space can be utilised with some clever design ideas, and even made to appear more spacious with the right choice of kitchen flooring. Stone flooring or oak flooring in a light shade can instantly give the illusion of a much larger area. A bigger area, such as a kitchen diner or conservatory, lends itself to even more opportunities. And using the same kitchen flooring throughout creates a lovely seamless transition between rooms.
Select a style
There are so many kitchen design opportunities when it comes to the overall style. From classic to contemporary, there are appliances, units, furniture and kitchen flooring choices to suit any theme. Combining modern with traditional can work fabulously – think state-of-the-art appliances with natural stone flooring, or geometric porcelain wall tiles alongside sleek wood flooring.
With nature playing a large part in all aspects of interior design, limestone flagstones and oak are great choices for a stylish, on-trend kitchen and perfectly complement any type of property and décor.
A personal touch
Inject personality into your kitchen design – after all, it's your space to enjoy. "The best kitchens have a soul or spirit that's warm, inviting and personal," says designer, Mick De Giulio. "Be creative, it's not just about cabinets and countertops – the whole room has to sing."
Simple touches like a bulletin board, chalkboard or whiteboard on the wall can bring a family feel. And a focal point, perhaps a fancy porcelain tile floor alongside more neutral cabinets, or a feature splashback, can give instant character.
Light it up
Smaller rooms can be made to appear bigger with the use of lighting, and lighting up your key food prep and cooking areas can make your day-to-day kitchen experience far more user friendly.
Unlike other rooms, overhead lighting isn't enough in kitchens, says electrician Richard Terode. "In the kitchen, you don't want the light behind you, casting a shadow on the workspace. You need it positioned to fall in front of you." Under-cabinet lights are a particularly good choice as they shine directly on countertops.
Surface matters
Work surfaces play a huge part in making a kitchen useable and convenient. Think about how much surface space you need around the sink area and oven, for cooking and preparing food. On the same hand, too many work surfaces can be a waste of otherwise useful space.
The height is important too, for comfort and safety. And durability is a big factor to consider – work surfaces need to withstand a lot of use in the kitchen, so choose a material that's fit for the job and is easy to maintain, while offering style and sophistication, such as limestone flagstones or porcelain tiles.
Clever storage solutions
"The biggest mistake people make at the planning stage is not allowing for enough storage," interior designer, Jacqui Hargrove, says. How much storage do you need? What will you need ready access to on a regular basis? Do you want 'hidden' storage for things you don't use very often?
Think about the size of cupboards and drawers and whether you want all of your appliances on display, or tucked away out of sight. It's worth thinking about the practicalities of cleaning your kitchen too – simple ideas like floor to ceiling cupboards can eliminate dust gathering and tricky cleaning.
All new versus a re-vamp
Sometimes you can create a complete new kitchen design without starting from scratch. Re-vamping existing units and kitchen flooring is a great idea if the overall design and function works for you.
A complete overhaul with new fixtures and fittings isn't always an option in terms of cost effectiveness, so you could think about giving your kitchen a new lease of life with new cupboard fronts, some new floor tiles, work surfaces or accessories. Re-tiling with some decorative porcelain tiles is another way to create an instant re-fresh and porcelain tiles can also be used for a stunning worktop.
Footfall friendly
You need enough space to move around, but to have the items you need in convenient places. And the kitchen can be a hazardous place, so choosing the right kitchen flooring is essential to reduce accidents. Stone flooring is a great option, as it's not only highly attractive, the range of styles and textures can help to create a safe, non-slip surface – ideal for busy kitchens.
Stone flooring is also extremely durable, as is wood flooring, making them both perfect for areas of high traffic, where you need your kitchen flooring to stand the test of time. And with a range of fabulous coloured stone flooring and wood flooring, in glorious textures and effects, you can find a robust, yet highly stylish kitchen floor to suit any design theme.
Recycling and waste
Think about where you want to house your waste disposal and recycling – both for convenience and aesthetics. There are many options for housing bins out of sight, and clever recycling ideas that you can work into your overall kitchen design to suit your lifestyle and family's needs.
You could do simple things within an existing kitchen design, like utilise a cupboard with separate containers for glass, plastic and metal, or free up a drawer for storing paper.
To find out more about our comprehensive range of kitchen flooring, stone floor tiles, wood flooring and porcelain tiles, please visit our showroom in Cirencester. Alternatively, you can order a flooring sample on our website.