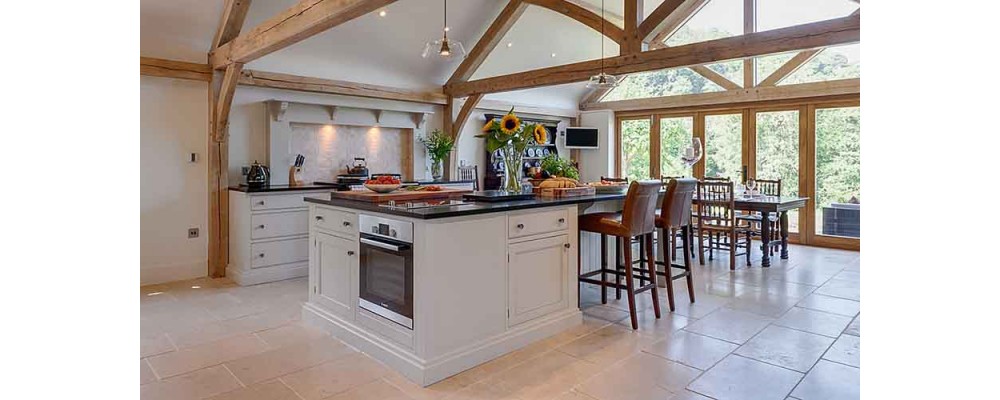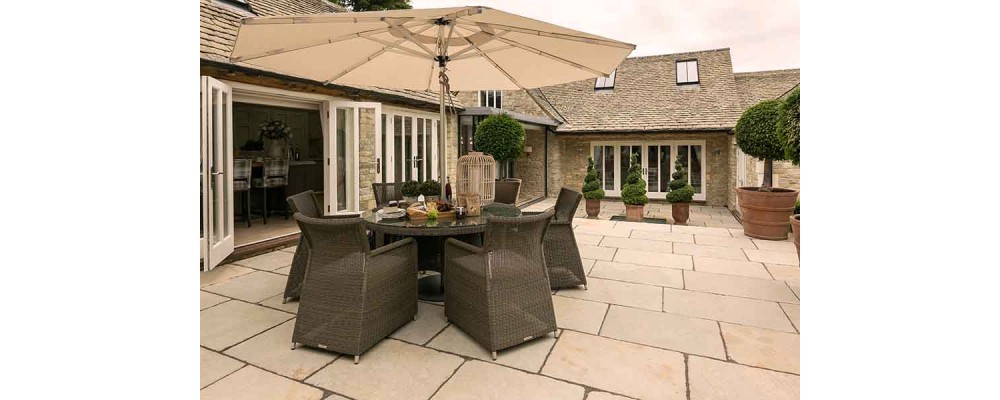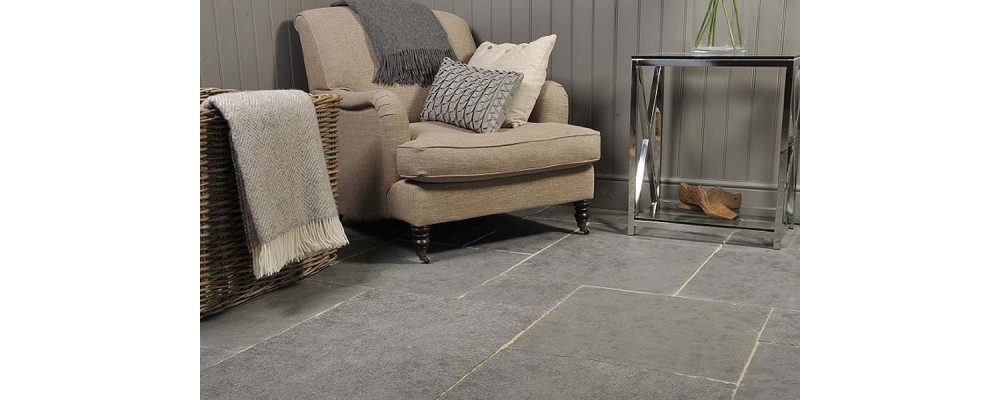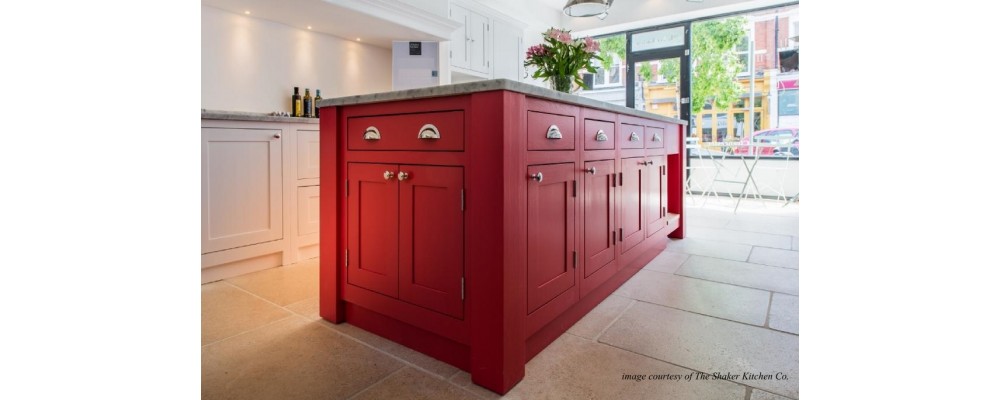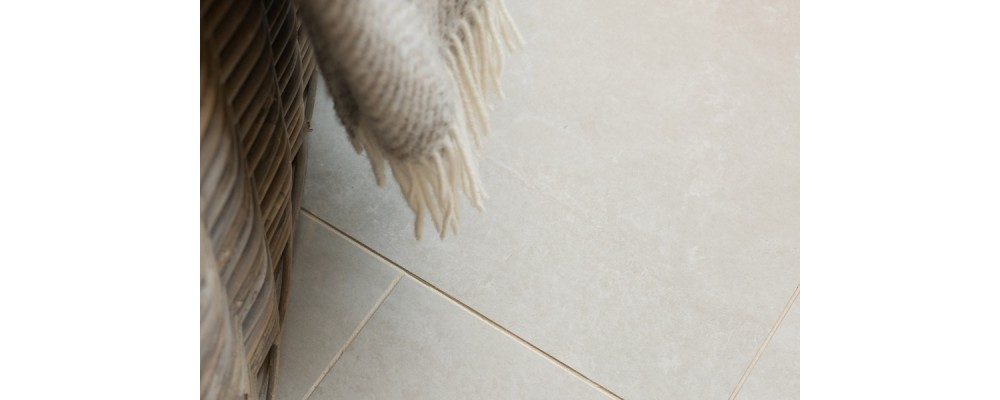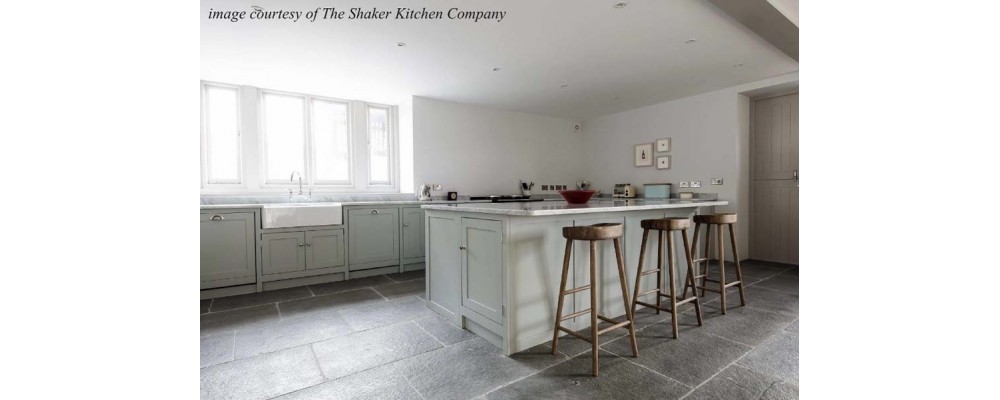 Inherently stylish, natural stone flooring has long been a popular choice for rooms all around the home. The appeal of this type of flooring is undeniable – from its effortless beauty and unique characteristics to its durability and timeless charm.

Flagstone flooring works perfectly within both contemporary and traditional settings, but with so many stones, colours and styles to choose from, how do you know which one is right for you? Our stone flooring buying guide gives you the low-down on natural stone tiles, to help you find your perfect floor.
What types of stone flooring are there?
There are many kinds of natural stone you can use both inside and outside of the home, including limestone flooring, travertine tiles, sandstone, slate and granite. And there is an array of styles and finishes available, from antiqued and aged to contemporary, as well as a wonderful selection of colours, ranging from subtle earthy tones to striking dark blacks and fabulously on-trend grey limestone tiles.
Our range of limestone flooring offers both style and durability, bringing a sense of luxury and sophistication to any room. From Cotswold-style to aged French stones, our limestone tiles create a truly magnificent floor. Embracing the exquisite beauty of nature, limestone flooring boasts delightful colours nestled alongside delicate detailing.
Flagstone flooring comes with a variety of gorgeous textured surfaces and edges, with charming nicks, pits, veining and colour inconsistencies exuding authenticity and bringing the beauty of nature into the home. The 'tumbled' finish of our aged stone tiles presents a beautiful distressed look, with rounded worn edges, and for our 'riven' finish, the stone block is split to expose the natural texture. Our 'honed' stone flooring is machine finished, to create a wonderful smooth surface.
What are the benefits of natural stone flooring?
Natural stone flooring is not only beautiful, it boasts extreme versatility and is very hard wearing too. Stone flooring offers everything a busy home or garden demands – it's tough, durable, can take spills and will cope with a dropped plate or two, giving you a high-quality and long-lasting floor, which is ideal for areas of heavy footfall.
While man-made products such as porcelain tiles offer stunning and exceptionally realistic reproductions of natural materials, it's not always easy to fully capture the intricate beauty of stone flooring. Flagstone flooring gets better as it ages, with the delightful characteristics meaning no two stones are ever the same, and it's this uniqueness that makes natural stone radiate beauty.
Stone flooring is also a great covering to use with underfloor heating, as it's a good conductor and disperses heat evenly, although a thicker stone may take longer to heat up. Always make sure your floor is laid in accordance with the floor and underfloor heating suppliers' guidelines.
Where can I use stone flooring?
In short, stone flooring can be used in any room of the home and even outside areas. But different types of tiles, surfaces and edge finishes are more suited for certain applications.
Rooms that see a lot of footfall will need a hardwearing surface, and a tile of adequate depth. As a guide, 15mm is an ideal thickness for good durability. A riven finish is more forgiving when it comes to marks, as is the aged appearance of a tumbled finish. A denser stone, like limestone, is a great choice for areas of high traffic and lends itself to a wide range of uses in the garden, too.
Denser limestone varieties, like our hand aged flagstone, are a better choice for damp areas and worth bearing in mind that a smoother finish can offer less grip in wet conditions.
Who can install and offer stone flooring advice?
While you may consider installing stone flooring yourself, laying such an exquisite natural material demands perfection. Investing in natural stone flooring and then trying to lay it yourself could prove costly. The floor preparation is paramount to ensuring you have a long-lasting floor, so it's always best to enlist in the services of a professional natural stone tiler.
At Beswickstone we have a team of highly experienced people who are more than happy to discuss your project with you and help you choose your perfect tiles. Visit our showroom in Cirencester, where you can view our wonderful range of stone flooring, which we source directly from the quarries, so you can be assured of only the very best quality.